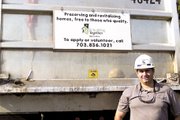 In an effort to help local charities, Virginia Paving Company has launched "Dump Trucks for Charities." These Motorized traveling billboards are free to non-profit organizations.
"During this challenging economy, we're providing a highly-creative way for local charities and non-profits to spread their messages," said David Horton, plant manager, Virginia Paving, Alexandria Branch.
The program provides sign space to local groups on company dump trucks, which are seen by thousands of motorists every week on area roads. The 15 feet high by 36 feet wide aluminum signs affixed to truck tailgates will help increase awareness for groups such as the Animal Welfare League of Alexandria and Rebuilding Together Alexandria, according to John Irvine, company spokesperson.
"Virginia Paving is generously helping Rebuilding Together Alexandria," said Katherine Medina, executive director, RTA. "With this creative visibility, we hope to add more qualified homeowners to the program and more volunteers from the construction industry."
RTA has five signs calling for applicants and volunteers. "Adopt a Pet for the Long Haul" reads the Animal Welfare League's five signs, which also feature pictures of a dog, kitten and rabbit.
Virginia Paving, which has agreed to display the signs for six months, spent $1,250 on the material that holds the signs on 10 dump trucks. The company's Alexandria branch, which has 175 employees, is also on track to provide approximately $90,000 in cash and non-cash donations to Alexandria charities during 2008, according to Irvine.
Any group wishing to participate in the "Dump Trucks for Charities" program or gain additional information about the company is encouraged to visit <a href=http://www.VirginiaPaving.com.> www.VirginiaPaving.com.</a>