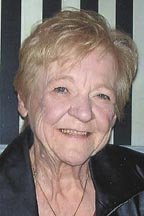 Barbara Ann Casteel, 72, of Fulton, Mo., formerly Ashburn, died Wednesday, Aug. 20, 2008 at her home surrounded by her family.
She was born, July 13, 1936, in Kane, Pa., the daughter of the late Kenneth and Florence "Gerry" (McCandless) Westerburg. On Dec. 26, 1963, she was married to Robert B. Casteel Sr. He preceded her in death.
She is survived by her four children, Gail, and husband John, Apland of Fulton, Mo., Kathy, and husband Sam, Dainard of Everett, Wash., Mike, and wife Cathie, Casteel of Davenport, Iowa, and Robert B. Casteel Jr., and wife Trina, of Leesburg; three grandchildren, Daniel Sutton of O'Fallon, Mo., Evan Peel of Everett, Wash., and Dustin Casteel of Davenport, Iowa; two sisters, Sandy Hall of Winchester, Va. and Sue McCain of Topeka, Kan.; and two brothers, Kenneth Westerburg Jr. of Stafford, Va., and Richard Westerburg of Orlando, Fla.
She was preceded in death by her parents and two sisters, Lea Sapp and Jean Ayers.
A private service will be held at a later date in Virginia.
In lieu of flowers, donations to the American Kidney Foundation or charity of their choice c/o Debo Funeral Home, P.O. Box 818, Fulton, MO 65251
Condolences may be sent by visiting www.debofuneralhome.com.
More like this story