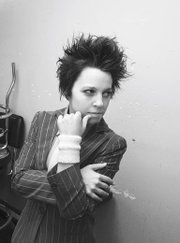 Erin McKeown has been playing guitar for a few years and will be performing solo. Her favorite place to play is in front of an enthusiastic crowd, and mentions that no one can mistake her voice for someone else's. She will be at IOTA on Thursday, Sept. 4.
<b>Introduce yourself or the band:</b>
Hi, I'm Erin Mckeown, and I am performing solo at IOTA.
<b>How did you get your start in music and how long have you been performing?</b>
I grew up in Fredericksburg, Va. playing piano, but only really got into music when I started playing guitar at 12. I had my first real performance when I was 18.
<b>What is your best memory when it comes to music?</b>
I have many, but to pick a couple: sitting around at summer camp as a teenager singing songs with my friends. Or getting to share some very big stages with some very big heroes of mine.
<b>Where is your favorite place to play, either publicly or personally?</b>
I like any room that is filled beyond capacity with a hungry and enthusiastic audience.
<b>Best compliment about a performance?</b>
That I was myself.
<b>What is your favorite piece of music and why?</b>
I like a lot of music without words. Instrumental music lets me be with my own thoughts but with a soundtrack.
<b>Describe your sound:</b>
Especially solo, I mix alot of different styles into a unique sound of my own. You'll never mistake my voice for anyone else's.
<b>Where have you toured?</b>
All over the US, many, many times. Europe, the UK and Ireland a lot. I am dying to go to Asia and Africa.
<b>Anything special about the upcoming show?</b>
I've just finished recording a new record, and I don't often play solo, so I'll be debuting lots of new songs.
<b> Future plans:</b>
My new record should come out in the spring of '09, so my immediate future is getting it all shined up and ready for release.
<b> What would you recommend to someone starting out in the business?</b>
Keep your day job as long as possible! Putting pressure on a young career to pay the rent is the quickest way to burn out!
<b>Any parting thoughts?</b>
Come to my show! You'll have a blast!