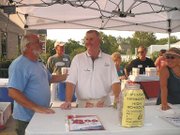 David Sinclair first arrived in Herndon in 1992, fresh out of the Navy and a long way from his native Iowa. His community-oriented attitude, however, acquired through his rural upbringing, led him to take on many service responsibilities in his adopted hometown.
His initial love for Herndon was, in fact, colored by nostalgia for his roots.
"Living in Herndon is like living in a small town, even within the vast metropolis of Washington D.C.," Sinclair said. "The people are just so great, so friendly, and so open," he added, "which is great to find here as a small-town Midwestern guy."
Over the years the transplanted Iowan has extended a hand to numerous local organizations, including the Elden Street Players (ESP), the local theatre company. Despite lacking a background in theater, when he was asked by the company's board to "help out every once an a while," he agreed without hesitation. He now serves as both the vice president and house manager of the theater.
Herndon Community Television (HCTV) brought Sinclair into its family in similarly casual fashion, one day inviting him to "come over and see what we do," as Sinclair remembers it. Now, eight years later, he is their vice president and tech engineer.
"Growing up in the small-town Midwest, if someone needs help you give them a hand," said Sinclair. "That's just being a good neighbor."
This philosophy also led Sinclair to Friday Night Live, a weekly summer concert series sponsored by the Herndon Chamber of Commerce.
"I live right down the street from it and I figured 'I can hear the music, so I might as well get involved,'" Sinclair said. Ten years after first giving Friday Night Live a hand, he currently heads a 25-strong team of volunteers for an event that he frequently, and animatedly, endorses.
"It's a lot of fun, it's free, and a lot of families show up," Sinclair said of the concert. "Everyone's out to have a good time." He confesses to having a pretty good time himself.
His passion for service has not gone unnoticed by the community, and in 2007 the Rotary Club recognized Sinclair as the ultimate "good neighbor" by presenting him with the Citizen of the Year Award. While flattered by the honor, Sinclair insisted that such recognition is not the primary impetus for his service.
"I volunteer because I enjoy myself doing it," said Sinclair. "I think that's why people help out; to have fun, not for a pat on the back."