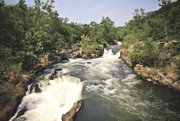 The best place to be after a long week at the office haggling with colleagues and having your decisions scrutinized and double-guessed? That's easy for Potomac resident and County Councilman Roger Berliner (D-1).
"I think it's sort of hard to get past the C&O Canal and our Potomac River," said Berliner.
Potomac offers a wealth of weekend activities from eating and shopping to sports and theater, but the two local outdoor gems are a mandatory cornerstone for any weekend activity in and around Potomac. The C&O Canal National Historical Park runs through Potomac, a sliver of parkland filled with hiking trails of all skill levels, bike paths, and opportunities galore for dogwalkers and kayakers alike.
"Great Falls park is always fun," said Adam Greenberg, Potomac resident and owner of the ever-popular Potomac Pizza. Great Falls is the main access point to the C&O Canal Park in Potomac, the entrance of which is at the intersection of Falls Road and MacArthur Boulevard. Parks and bike paths abound around Potomac and make for good personal or family afternoons.
"We've got some nice parks including Hadley's Park [on Falls Road]," said Greenberg. "It's a nice to take your kids to. Cabin John Park [off of Tuckerman Road] is a nice place too."
When it comes to food, there are high end restaurants like Old Angler's Inn on MacArthur Boulevard or fast and easy family places like California Tortilla in the Cabin John Mall. Starbucks is a popular place to meet in both Cabin John Mall and Potomac Village.
"They both have a lot of people sitting outside," said Potomac resident Bonnie Berliner — no relation to Roger Berliner — of a typical scene.
Renato's is a popular Italian restaurant in the Village, as is Hunter's Inn, which is famous not just for its gigantic martinis but its bar scene in general.
"The Hunter's Inn bar on Thursday nights is a great meeting place," Bonnie Berliner said. "For some reason Thursday night the Hunter's Inn bar is packed."
More family-friendly nighttime entertainment can be had across the street from Hunter's at Sprinkles ice cream store or at Baskin Robbins in Cabin John Mall, which would make a perfect end to an evening of summer baseball watching the Bethesda Big Train minor league baseball team that plays its home games in Cabin John Park.
Or, if the timing is right, the Potomac Theater Company offers top-notch local theater talent in its seasonal performances in the Bullis School's Blair Family Center for the Arts.
Bethesda, Rockville, and of course Washington, D.C. are always just a hop, skip and a jump away, but more often than not newcomers to Potomac are likely to find that anything they want to do on a weekend is just around the corner.