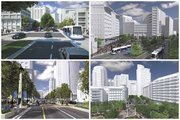 To understand what Tysons Corner is, is to understand the phenomenal growth of Northern Virginia in the last 45 years. In 1963, as plans for a major shopping center were being laid out, the 1,800 acres that is now Tysons Corner, was a village amid farms. Three of the towns around it were established and historic — McLean, Vienna and Falls Church. To the west, a new town later called "Reston" after the initials of its founder Robert E. Simon was just being planned.
Further west, the federal government had opened a new airport in 1962, but it was not clear that it could draw passengers from National Airport.
This was the year President Kennedy was shot on November 22 and Lyndon Baines Johnson, the vice president, was sworn in. Fighting was raging in Vietnam, but even to the military dependents who lived in Northern Virginia American involvement was small and the war remote. On most days, it barely made the front page.
TODAY, Tysons Corner is the largest retail area south of New York. It has 2.4 million square feet of retail space, 300 stores, including six major department stores, 3,400 hotel rooms and 25 million square feet of office space. There are some 100,000 people who come to work at Tysons each day and another 18,000 people who live there.
Tysons was the prototype for Joel Garreau's "Edge City," a phenomenon that was growing across the country. By Garreau's measure an Edge City was a place that did not exist three decades before but has more than 5 million square feet of office space, 600,000 square feet of retail space. The population, he said, must rise every morning and drop off every afternoon and it has to be, as Tysons Corner is, a destination that "has it all" from entertainment, to restaurants, to recreation and to shopping.
Tysons Corner, of course, was built on the automobile. There is virtually no full service public transportation save for several bus routes.
Tysons is located near the junctions of Interstate 495 (D.C. Beltway), Interstate Route 66, Virginia 267 and the juncture of Route 123 and Route 7.
If the automobile built Tysons, it is now strangling it. The traffic jams are historic. One couple who lives in a high rise and can see several routes, often have a traffic jam party on Friday evening where they sit on the balcony and watch the frozen traffic.
As Gerry Connolly, the chairman of the Fairfax County Board of Supervisors, likes to joke: Tysons is really great except for two hours in the morning and two hours in the evening. Lately, the traffic congestion lasts three hours.
From 1962 on there had been talk of building a rail connection between Dulles International Airport and Washington, D.C. Now that the airport welcomes 25,000,000 passengers a year, arriving passengers further clog roads that bring workers from as far west as West Virginia, most of whom pass through Tysons Corner.
PLANS for a metrorail have come and gone over the years, but in 2004, a new plan with the full backing of the Tysons Corner business community, Fairfax County, Loudoun County and state governments was hatched.
Following the fortunes of Dulles Corridor Rail in those four years has been like following the "perils of Pauline" in old silent films: one crisis, followed by another.
There was a fight over whether rail should be surface or tunnel, how many stations it should have and where they should be. There was the crisis over whether the federal government would fund its share and the fight over the giving of a contract to firm put together by Bechtel Company without a public bidding. As the months went on, the estimated cost grew. The rail connection, which would now be built from the West Falls Church Metro station to Dulles, is estimated to cost upwards of $5 billion, but even proponents privately believe it cost a lot more in the end. The federal government is to provide $1.5 billion in loans and grants, the state $400 million and another $2 billion from a special taxing district paid by Tysons land owners. Fairfax County will make a $400 million payment and another $140 million has already been spent.
The Federal Transportation Administration finally gave the plans tentative approval in May and issued $159 million in planning money. But even then the rail construction faces more hurdles and is unlikely to be able to start construction until late 2009 according to several transportation officials.
In 2004, Fairfax County appointed a Tysons Land Use Task Force to plan the changes that a major rail connection might bring and to make recommendations on how the county should change its comprehensive plan and later zoning regulations to accommodate the changes.
Its final report is likely to be issued in the fall, but the concepts at work are quite clear.
The Task Force sees a new city emerging that would be home to 100,000 people, drawn together by "connector" buses or trolleys, with some 200,000 jobs, in buildings built around four Dulles Rail transportation stops.
"Tysons is in decline," said Clark Tyler, chairman of the Tysons Land Use Task Force late last year and that is the secret impulse that has driven the planning even though the rail may be delayed. Many of the office buildings are aging and need to be upgraded to meet new tenant demands and it is clear that the word is out about traffic congestion which may affect its attraction to companies with large work forces.
At the close of 2006, Tysons Corner had 44 million square feet of space, 16,000 residents (now 18,000), 107,000 jobs and perhaps the worst traffic congestion in the region. Several other areas of Northern Virginia like Reston's Town Center are rivaling Tysons as a place to invest and build.
There are key objectives in this planning. One is to drastically cut the numbers of automobiles that are moving through the 1,800 acre area. Task Force Chairman Tyler said there is now 14,500,000 square feet of open parking and parking garages with another 58,000 parking spaces that attract drivers to come to Tysons and "surface parking would go away" to deter them.
THE CIRCULATORS — buses or trolleys — running on dedicated streets would move continually around the town allowing residents and workers to move throughout the area without moving their cars. Buildings with high residential densities would be built near the four transit locations so that people who wanted to work at Dulles International Airport or Alexandria or Washington, would be able to walk to the Metro and walk home.
The assumptions are based upon enormous research conducted over the last year. The Task Force is expected to recommend a Tysons Corner "authority," which it said would not rival the present Planning Commission and county government, but would look to seeing that development follows the plan.
IN MAY the Tysons Land Use Task Force voted to adopt the highest density estimates it has considered in any of its meetings
"These are the highest figures, they've ever come out with," said Mark Zetts a member of the McLean Citizens Association who monitors the Task Force.
The Task Force issued no estimates of how many square feet of development these figures would cause, but others said it might engender from 145,000,000 square feet to 165,000,000 square feet of building capacity, vastly higher than the 94,000,000 to 127,000,000 square feet first shown to the public at meetings in February.
At that time, Rob Jackson of the McLean Citizens Association wrote an email to Tyler, chairman of the Task Force, and asked for the underlying data that supported the development estimates. Tyler said they might be available later, but as of June 1, Jackson had seen no information. "These growth estimates have huge implications," he said, "we are not saying we doubt they have a base for them, but make them public." Four members of the Task Force voted against the density all but one of whom came from nearby communities.
Huge financial investments are at stake. High density levels can turn into billions of dollars for current land owners.
But others argue that if the new Tysons is to have schools, libraries, parks, sidewalks and neighborhoods, auditoriums and a civic center, the only way to pay for these is by charging developers special payments to build high density properties and fund the "amenities" with those payments.
To many long time area residents, this all seems so unlikely. Tysons Corner has no local government, no real center, no churches and all its services are provided by Fairfax County.