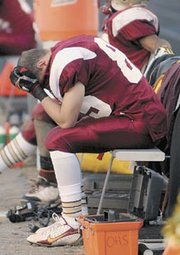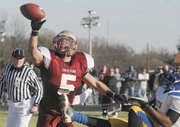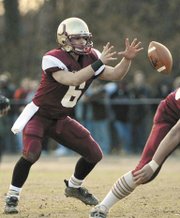 Nearly a year ago, Jack Tyler and his Oakton teammates started repeating the phrase "15 as One," meaning 15 games played together should be enough to garner the school's first Virginia AAA state title since 2005.
Oddly enough, the team fell two wins short, but still accomplished a secret, less-discussed goal: After two seasons during which the Cougars amassed an 11-10 record, the prominence has been restored within Oakton's football program.
"Our team goal was '15 as One' because we had high hopes of winning the state championship," Tyler, a senior linebacker, said. "But behind the scenes our goal was to restore the team and get back to not making bad decisions because that was gone for a couple years."
With 1 minute, 27 seconds to play last Saturday afternoon, Oscar Smith's Ryan Trotman booted a 23-yard field goal, pushing the visiting Tigers ahead for good, 10-7, in the Virginia AAA state semifinals.
Tyler and Co. battled Oscar Smith -- ranked as the 12th-best high school team in the nation by USA Today -- to the brink, despite playing without leading passer and rusher Chris Coyer for most of the game. Coyer was carted off the field by an ambulance with 3:52 left in the first quarter.
On second and 13 from the Tigers' 48-yard line, Coyer took off on a designed run to his right. While two Oscar Smith defenders latched onto Coyer's lower body, linebacker Jerod Askew delivered a helmet-to-helmet hit that left the senior signal caller motionless, but not unconscious.
Coyer suffered a fracture of the spinous process C-7 vertebrae. His neck has since been immobilized and he's had some bleeding and swelling. But Coyer, who also plays basketball, expects to make a full recovery and to rejoin the basketball team around the end of January.
During the 27-minute break, classmate Ryan Harris started to throw. Harris has rotated with Coyer for the past three years, providing Oakton with a more-than-viable backup option should something like this happen.
<b>THOUGH HARRIS</b> missed on his first attempt, the 5-foot-11 lefty followed by leading a nine-play touchdown drive midway through the second quarter, capping it with a perfectly placed 22-yard fade route to Jay Young inside the left pylon.
"It was a play-action pass where Jay was going to fake like he was going to block [the Oscar Smith defender] and then blow by him," said Harris, who completed six of his 17 passes for 92 yards. "I got good time from the offensive line and I just put it up there and let him do the rest."
The 7-0 score would remain until there was 4:37 left in the third when Oscar Smith quarterback Phillip Sims (19 of 32, 237 yards) hit wideout Tim Smith (eight catches, 139 yards) from 8 yards out to tie it. The score was set up by an earlier 70-yard connection between the two.
Despite 59 second-half yards from senior running back Trey Watts, Oakton was unable to work its way beyond Oscar Smith's 16-yard line before Watts and Harris combined to fumble a handoff with four minutes remaining, setting up the winning field goal.
With Oakton trying to make one last push from its own 23, Harris hit Watts for 11 yards before four straight incompletions finally ended it.
<b>ON OAKTON'S</b> final offensive play, Harris threw over the middle to Watts, who appeared to cradle the ball before it hit the ground. Two line judges began to mark the spot corresponding to a catch, but the back judge reversed the call, turning the ball over to Oscar Smith on downs.
"You can't change the call," said Watts, who rushed nine times for 66 yards Saturday. "Oscar Smith is a hell of a team and they played great. Nothing against those guys … I hope they go win states."
While Oscar Smith will travel to Virginia Tech's Lane Stadium this Saturday to face Osbourn, Oakton was forced to deal with a 12-month mission that finished two wins shy of the Cougars' ultimate intention.
As players gathered in an auxiliary gym, long after fans had awkwardly wiggled out of the congested parking lot, raw emotion prohibited teenage athletes from realizing exactly what they had accomplished. But the message wasn't lost on their coach.
"When I started this season with my coaching goals and my coaching staff, we said that wins and losses don't matter. We just want our program back," said head coach Joe Thompson, whose team finished 13-1 this season. "We just wanted it to be one of pride and one of commitment where you play with passion and heart.
"One thing that I told them was that when you commit that much, the pain is sharp. And they're going to feel it again in life. They're going to work as hard as they can on something and lose it and it's going to hurt. But if they work that hard, they're going to win more than they lose."