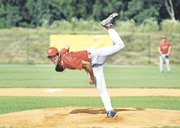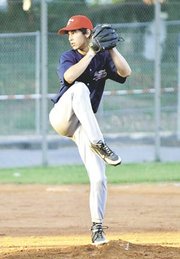 Ryan Ashooh knows what works. As a left-handed pitcher for the Centreville baseball team, Ashooh routinely decides whether his fastball, curveball, changeup or splitter will work best against an opposing hitter and ultimately throws that pitch.
Or, in the case of Ashooh's most recent move, he decides what works and makes the commitment. Though only a junior, Ashooh recently gave a verbal commitment to play the sport he loves at the University of Virginia.
"It's everything that I wanted," Ashooh said. "You get a degree from Virginia … you can go anywhere after that. And it's a good baseball program."
Ashooh is now the third player under head coach Morgan Spencer to play at the Division I level, joining Mickey Bozek (Army, 2008) and Ryan Barefoot (VMI, 2007).
Ashooh first traveled to Charlottesville this fall for a showcase camp. With a fastball clocked in the upper 80s, he drew instant courtship from Virginia's coaching staff.
After one of his performances, Virginia head coach Brian O'Connor approached Ashooh and asked if he was attending the next day's games. From there, assistant coach Karl Kuhn followed Ashooh and later invited him to attend a fall scrimmage where the scholarship was offered.
"It was fast," Ashooh said. "Everything was fast."
He should be used to it. Ashooh made Centreville's varsity squad as a freshman and had his breakout year this past spring as a sophomore. In 36 innings, Ashooh accumulated 40 strikeouts and allowed only 18 walks. His 3.01 ERA was one of the lone bright spots on a team that finished 4-17.
<b>IN THE</b> Concorde District quarterfinals, Ashooh carried a shutout into the sixth inning against Westfield — one of Northern Region's top offensive teams — before allowing a late two-run homer.
"I was kind of hoping [to find out that] he was moving from Centreville, but I guess that's not the case," joked Westfield coach Chuck Welch. "He's got good composure, and it's very hard to pick up his pitches. He's probably going to be one of the better pitchers in the region much less the district."
Over the summer, Ashooh was part of a select squad of area baseball players that played overseas in Germany, picking up two wins and striking out 15 batters against international competition. He also played for the Vienna Mustangs of the Old Dominion League — not exactly the normal summer routine for someone entering his junior year in high school.
Spencer has been working extensively with Ashooh this off-season — sprinting workouts on Tuesday and Thursday mixed with long toss to build arm strength — and admits that his star pitcher still has significant improvements to make.
Though Ashooh has developed a reputation for attacking hitters with an array of quality pitchers, Spencer would like to see him spot his fastball better and improve his ability to hold runners on base.
But if Ashooh's demeanor since the commitment is any indication, none of the minor adjustments should become too much of a burden.
"He's really focused on becoming the best he can be, and he's not taking the fact that he's already committed to a school for granted," said Spencer, whose team will return 17 lettermen this spring with hopes of winning the school's first-ever district title.
"If anything, I think [the commitment] has motivated him to work harder and really set some goals for himself here at the high school level."