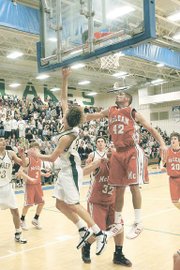 What made last year particularly special for the McLean High boys' basketball team was that the Highlanders were playing at their best down the stretch of the season. The team entered the Liberty District tournament as a long shot No. 5 seed, but upset both No. 4 Madison and top seed Woodson to reach the finals where they finally lost to cross-town rival Langley. McLean's season ended with a 54-52 heartbreaker defeat at Mount Vernon in the first round of the Northern Region tournament.
McLean experienced its breakthrough 2007-08 season even though its overall record of 14-12 was not outstanding. The Highlanders, under their first-year coach Kevin Roller, advanced to the district finals for the first time since 1991 and qualified for regionals for the first time since 1999. McLean, over the course of the season, emerged as a true unit and believed it was capable of winning big games.
"It came down to team work," said Roller, at season's end. "It took all season for us to get comfortable with each other. Our success was a culmination of a season-long commitment to improving every week under a new coach."
Three players from last year's team — Tarek Ammoury, Alex Russomanno and Peter Kannellias — have been lost to graduation. The threesome combined to average about 36 points and 15 rebounds a game. Ammoury, a forward, was one of the top players in the region.
But Roller, now in his second season, believes this year's Highlanders can potentially have more overall team depth than last year's squad.
"I believe we will be significantly deeper than last year, but the production we lost to graduation will not be replaced by [a handful] of players," Roller said.
The coach went on to say the Highlanders will need steady contributions from their entire roster to help make up for the graduation losses.
<b>MCLEAN'S TWO</b> returning starters this season are senior point guard Peter Brosnan and senior forward Grayson Dahl.
Brosnan averaged seven points and four assists last year and emerged as a solid playmaker and passer at the point position, where he earned Honorable Mention All-District honors. He had a knack of converting big baskets at key points in a ball game.
"Peter's probably the most talented player we have," said Roller, who added that Brosnan is being heavily recruited by Division 3 college programs. "He played huge minutes for us last year. He will be the focal point, I assume, to other teams' approach to scouting us and playing us. He will drive what we do offensively."
Dahl, who excels as a lacrosse player during the spring, brings athleticism and a solid all-around game to the Highlanders' hoops lineup.
"He's probably our best defender and a leading rebounder," Roller said. "The key will be for him to build his offensive confidence."
Three players who made good contributions off the bench last year are back in junior guard/forward Sean Fitzgerald, junior forward Phillip Bouchard and senior guard Matt Baruch, the team's best outside shooter.
"We're looking for them to continue to develop as they fill in much more prominent roles," Roller said of the trio.
McLean will be a physically small team that must scrap for points, defend well the entire game and hit the backboards hard as a team. Roller believes McLean will be significantly better by midseason than it currently is as his players with more prominent roles begin to gain a comfort level.
McLean, which opened its new season at Stuart High earlier this week on Tuesday, is scheduled to travel to Myrtle Beach, S.C., this weekend to take part in a four-team jamboree tournament. The Highlanders will play games Friday and Saturday, the latter contest against the host North Myrtle Beach High team. Another Northern Region team, Chantilly, is also competing at the tournament. McLean's first home game this season is scheduled for Friday, Dec. 12, against Centreville.