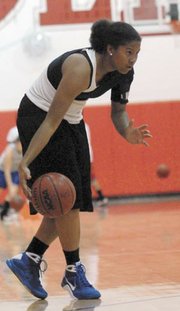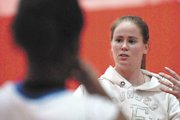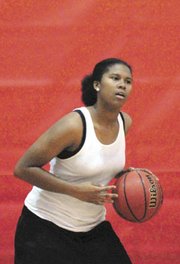 The brace she wears on her left shoulder serves as a not-so-subtle reminder to T.C. Williams star Tierra Ruffin-Pratt of just how much she missed at the end of last season.
After leading the Titans to a 19-0 regular season, Ruffin-Pratt dislocated her left shoulder in the third quarter of the Patriot District Championship game last February, the second-consecutive season a shoulder injury has derailed T.C. Williams' all-time leading scorer. The Titans ended up winning the Patriot District title, but without the North Carolina-bound Ruffin-Pratt, they fell prey to Robinson in the first round of the Northern Region tournament.
The losing feeling has stuck all summer, ruining an otherwise successful 22-1 season that included T.C. Williams third-straight Patriot District championship.
"We got a lot to accomplish this season," said Ruffin-Pratt, now a senior, who averaged a jaw-dropping 26 points, 15 rebounds, and seven assists per game last season on her way to being named Patriot District and All-Met Player of the Year.
Although the star power remains the same for the Titans, there are some notable changes that stand in the way of the T.C. Williams redemption tour. Coach Jim Lewis is gone, having taken an assistant coaching job with the WNBA's Indiana Fever. In his place is last year's lead assistant and former T.C. Williams girl's basketball standout Cavanaugh Hagen.
First and foremost in her mind is eliminating the notion that the Titans can't win without Ruffin-Pratt.
"What's different from last year is that we have girls that can help [Tierra] out offensively, so she doesn't feel like all the weight is on her to score her however many a game."
Or as senior guard Monica Fikes puts it, "Tierra won't be our only option."
The coach plans on emphasizing the same up-tempo style that made the Titans so successful a year ago, which suggests points will be aplenty.
But that will be easier said than done since Hagen and the Titans will have to make due without some significant contributors from a year ago. Last season's starting point guard, Brittany Burts, and co-captain Aida Gueye graduated, meaning Hagen must find an adequate replacement to play second fiddle to Ruffin-Pratt.
Just remember back to what happened last February to see how important a role that could be.
<b>IT'S A DOUBLE-EDGED</b> sword for any coach when they have a plethora of young, inexperienced players. They can either be pleasantly surprising or youthfully bad going against older competition, and no matter what, inconsistency should be expected.
That's the conundrum facing <b>Bishop Ireton</b> girl's basketball coach Mike Hutton entering his fifth season at the helm. He's got a team with a good mix of height on the interior and quickness on the perimeter, but little experience to speak of from last year's squad that finished 8-14.
Hutton does know he has senior center Joelle Baguilh to lean on. She returns in a more expansive role this year after averaging five points and four rebounds as a junior. The coach describes freshman point guard Bryana Robinson as the team's wild card, someone who could be a "special player," but also "take her lumps" in her first season playing varsity.
"I think we have the makings of a team that's going to surprise a lot of people," said Hutton.
The Cardinals will play in the St. Stephen's/St. Agnes Tip Off Tournament this weekend.
For first-year <b>Episcopal</b> girl's basketball coach Katie Scott, the beginning of the season is all about defining roles. The Maroon lost three seniors from last year and now must fill the void while transitioning to the habits of a new coach.
Scott expects senior Breanna Jones to lead the team in scoring and rebounding this season, with help from three-point sharpshooter Kelly Wallace on the perimeter. The Maroon lost to Collegiate on Nov. 21 to open the season and face Ireton on Dec. 3, after the Gazette Packet's press time.
After a 14-12 record last season, the <b>St. Stephen's/St.Agnes</b> girl's basketball team brings back three starters from a year ago. The notable returnees are senior Danielle Williams, junior Brianna Richardson, and sophomore Lauren Mizzell. The Saints opened their season with a 61-60 loss to Holton Arms on Nov. 20.
They will participate in their own tournament beginning Friday at 5 p.m. at SSSAS.