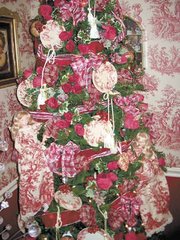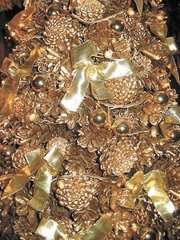 To say that Rhoda Matts absolutely loves Christmas is an understatement. The Sterling resident has spent 40 years making decorations for her 100 or so Christmas trees — each striking nostalgic chords. There are 43, 6-foot trees, one live tree and about 50 smaller trees in her home on Markwood Drive — each with a different theme.
FOR 20 YEARS, people have been touring her home's Christmas trees, scenes and decorations.
"I do every craft," said Matts, who lives with husband Kenneth, three collies, two cats and a bird. Her children Kathryn, 21, and Jason, 25, are out of the house. "I just love to do things with my hands."
She has every single nook of the house — including the bathrooms and porch — decorated with items she either painted, crocheted, sawed, glued or pieced together.
"You'd think this cost a lot of money, but it probably only cost $100," because all of the trees come from yard sales and the materials are made from trash, she said.
Matts studied interior design and art at George Mason University and attended the National Academy of Art in Washington. For her career, she worked as a "stodgy mortgage banker" for 30 years.
"This is the best hidden secret in Sterling," said Kathy Chrisman, advanced marketing teacher at Potomac Falls High who lost her mother to ALS. "She loves Christmas and she's devoted her whole life to making ornaments and helping people. She just loves the feeling she gives to others when they see it."
Chrisman has 12 DECA students giving tours at the Winter Wonderland Holiday Open House Tour this weekend. "I have somebody stationed in each room greeting and making people feel welcome," she said. Overall, 50 marketing students are baking cookies and brownies, creating posters for publicity and helping promote it.
Hours are Friday, Dec. 12, from 3-9 p.m., Saturday, Dec. 13, from 2-9 p.m. and Sunday, Dec. 14, from 2-6 p.m. The tour is free with donations given to ALS (Lou Gehrig's disease). Poinsettias will be given away to each family in attendance and there's a raffle to win a gold pinecone tree and crystal ornament.
But her home is not only trees.
Matts has a selection of Cracker Box ornaments with names like "Chandelier," "Queen Victoria" and "Out of Africa" made out of rhinestones and Austrian crystals that go from $40 to $200. "There's nothing in the world like these," she says of the Styrofoam ornaments designed by a Pennsylvania company. She pays for the parts and executes the designs — all 450 that she displays on moving ornament trees.
Her hobby's roots started in 1954 when her aunt Hilda ordered her a craft magazine called "Ideals," which had an ad for $3 ornaments that you could make. She handmade four ornaments and "it just grew and grew," she said.
THE BASEMENT contains a huge replica of the City of Jerusalem made completely out of trash. It has a Jewish wedding scene and a temple with pillars made of candles. The tile is a series of paint washes in browns, blacks and terra cotta. The building's roof is really McDonald's straws. She ad-libs using toilet paper rolls, tampon cartridges, cat food can — you name it.
"I went to the library and did research. I really tried to authenticate a Jewish village," said Matts. "It took me four years to make it."
Adds Chrisman, "She's extremely creative and resourceful in the thing she makes. She'll come up with some idea and turn it into something beautiful."
Potomac Falls junior Coty Campos, 17, of Cascades, has chosen to help promote the house for her state DECA project this year. "It was cool to see how passionate she was to do all these ornaments and decorate it and share it with the community," Campos said. "Even the bathrooms are decorated."
Lily Sabermaash, 16, of Cascades, a junior, adds, "All the money that's donated to this is given to the ALS Association, so I hope all the neighbors can see how much devotion this woman has put into this."
Stephen Fisher, 16, Cascades, a sophomore, who gave tours last year, said, "I think she's probably the most spirited person for Christmas that I've ever met in my life. I think she's probably one of the most creative people I've ever met."
Tree Highlights
Here's a few highlights of the tour.
The nativity tree in her living room is considered the home's main tree with a manger and grotto. She worked with a Minnesota woman to create its one-of-a-kind handmade ornaments.
For her Teacup Tree, she matched the maroon teacup colors perfectly with her dining room drapes. "I got the idea from a magazine 10 years ago," she said.
One of her favorite trees is the Victorian wall tree, which she started decorating in the 1960s. "They're definitely unique. I love it. It's one of my favorite things in the house," said Matts.
Off the kitchen is a Kitchen Christmas tree with mixing bowls, spoons, gingerbreads, baking dishes — anything related to the kitchen. "It's cute and happy and makes you smile," said Matts.
For her wooden ornament tree, she used a scroll saw to cut the ornaments and then painted them. The "Bingle Jells" or Santa's Mistake is a Victorian house that has carolers. "I even cut these cookies on the plate," she said.
The 1950s tree has saddle shoes, old 45s, Chevy cars, cardboard malt milk shakes with Tide detergent for the shake, all wrapped in a pink poodle tree skirt.
A cherry cottage tree has cherries and rocking chairs, bird houses and straw hats. "It's basically a country cottage tree that goes back to the old-fashioned cottage," she said.
For the Grinch Stole Christmas tree, she curved over the top and found lime-green and red ornaments that match the colors in the Dr. Seuss book.
The gingerbread tree has gingerbread men made out of felt and Styrofoam balls for gum drops.
A spice tree has real bread, cardboard hearts and real cinnamon sticks.
The horse tree has painted ponies, painted horse ornaments and stained glass.
Winter wonderland tree in baby blue and white is a marvel of felt, toilet paper rolls and paper towel rolls. Her daughter's tree is made out of Victorian baby dolls' heads.
A nutcracker tree is made of Pringles cans for the nutcrackers.
For her catch-all tree, Matts took found objects, including an old dish drainer and added them to a branch found on the side of the road.
The bear nativity as store-bought bears with handmade outfits, and grape vine and juniper branches. She used cat food cans for the drums and match sticks.
An upside down Star Trek tree has Spock and Capt. Kirk, as well as space ships. It's upside down because she says the ships hang better than right-side up.
The Victorian carousel tree has flower swags, carousel horses and pink Santas because back in Victorian times, everything was pink, she says.
A circus tree has popcorn bags and an egg tree is made with Styrofoam eggs and Styrofoam disks.
Snowman tree has snowmen socks and knitted outfits at Matts knitted herself.
The penguin tree, one of her children's favorites, has penguins and ice cubes made out resin.
An angel tree is made with angels and written passages from the Bible.
She has one storage unit but keeps the rest in plastic containers in her basement.