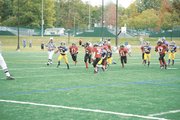 This time it was the parents who had homework. By rallying support from within its community, the Braddock Road Youth Football Club was awarded a $2,500 grant from the Liberty Mutual Responsible Sports Program.
The grant, which will be used for new football equipment, was awarded based on a nationwide competition to complete an online training program through Liberty Mutual and the Web site www.ResponsibleSports.com.
Parents and coaches completed a 15-minute training exercise that focuses on how best to influence and lead youngsters both on and off athletic fields. The top 20 responses among youth clubs nationwide were awarded with the supplemental funding.
"It points to the dedication between coaches and parents to provide an alliance of positive sports mentors on the sidelines," said Liberty Mutual representative John Natale. "With BRYC, you have both parents and coaches that know the value sports have for kids."
The Liberty Mutual program emphasizes positive communication between coaches and parents, and its overall goal is to promote a positive environment for young athletes. In its second year of existence, the program has already awarded over $100,000 in community grants to youth organizations across the country.
Bob Fitzpatrick, the commissioner of BRYC football, first heard about the opportunity through the Fairfax County Youth Football League and immediately enlisted the help of parents and a few fellow coaches.
One of those parents was Erin Richmond, whose husband coached the BRYC 75-pound American Steelers this past fall. Richmond spearheaded an outreach effort, developing a contact list and sending out emails that asked to take the online course.
"It was through Erin's great e-mails that we got things rolling," Fitzpatrick said. "It got a lot of parents and coaches to get online and take that course, and that really helped."
"In order to make it happen, we had to have the parents get involved," Richmond said. "I think it speaks highly of the parents that they're willing to take the time to learn more about how they can make things better for their kids and how they can understand how to be a better parent and support their kids."
The Braddock Road Youth Club was developed in 1966 and has impacted roughly 175,000 children during those 42 years. In addition to the requisite offerings of football, basketball and baseball, BRYC also offers a winter cheerleading program, rugby, volleyball and different soccer options.
In the past three seasons, BRYC has seen its football numbers balloon from 19 to 25 teams, which equates to a little more than 100 new players. The $2,500 will go a long way toward improving equipment for the football program, and according to Fitzpatrick, the award should pay dividends in the years ahead.
"You look at our overall club win-loss success rate, and we're not as good as many of the other clubs out there, but one of the things that we stress for the coaches, parents and players is to have fun so we can get people to come back," Fitzpatrick said. "The idea was for people to work together because they enjoy the club and the organization, and they like the sport of football."