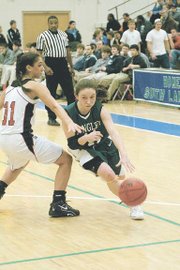 The Langley High girls basketball team, with three returning starters from last year's squad that finished third in the Liberty District's regular season standings, has gotten off to a bit of a slow start this season. But the Saxons are a good enough team this winter that it is just a matter of time before they begin to get things going.
"We're still trying to put it together," said Langley coach Cheryl Buffo, whose team was 1-2 following last Saturday's 50-44 loss to South County at the Saxons' own first annual Tip-off Tournament.
Langley, in the setback, received a game high 19 points from sophomore center Audrey Dotson, who a year ago earned First Team All-Liberty District honors. Senior forward Rachel Warrick added eight points for Langley.
The Saxons, the night before on Friday, won their first game at the Tip-off, defeating Hayfield 53-40. Warrick led Langley with 18 points in that contest, while Dotson netted 11. It was the first win of the season for the Saxons, who had lost their season opener to Northern Region power Oakton.
<b>LANGLEY HAS</b> a solid nucleus back from last year's region tournament-qualifying team in returning starters Dotson, Warrick and junior guard Kristen Kody.
Dotson, a 6-foot-1-inch center, is one of the region's top all-around players.
"She anticipates extremely well and is good at blocking shots," Buffo said of Dotson, who averaged 13 points, seven rebounds and three blocked shots last year as a ninth-grader. "She started every game for us and basically didn't leave the floor. She's a player I felt very confident in. At the end of a game, we wanted to get the ball in her hands."
Dotson worked hard during the offseason to improve her game. She scored most of her points from inside the paint last year, but has improved her outside shooting touch, which should make it even more difficult this season for opponents to guard her.
"She's just an all-around fantastic player," Buffo said. "She hits the boards extremely well and is quick to get the ball out on the outlet."
In the backcourt, Kody, who is 5 feet 10 inches, will see action at either the point guard position or at shooting guard. A year ago she earned Second Team All-District accolades.
"She's such a tall, athletic guard," Buffo said. "She can cause a lot of trouble defensively because of her quickness and long arms. She sees the floor very well."
Warrick, meanwhile, plays small forward position. She has worked hard on and improved her outside shooting touch.
"She has really become a good outside threat for us," said the coach of Warrick. "Her shot has looked real good."
This week, Langley was scheduled to play non-district road games at Yorktown on Tuesday and at Annandale this Friday night. The contest versus the Atoms will be part of a girls-boys doubleheader at Annandale.
Next week, the Saxons begin play in the Liberty District with games against Stone Bridge, Tuesday, Dec. 16, and cross-town rival McLean, Friday, Dec. 19. Both contests will be at Langley and the meeting against the Highlanders will be part of a girls-boys doubleheader.
"It's an unbelievable environment," Buffo said of the electricity in the gymnasium when Langley and McLean meet in hoops.
Over the Christmas holidays, the Langley girls will travel to Miami, Dec. 26-31, to take part in the eight-team Junior Orange Bowl Tournament.