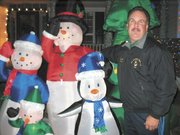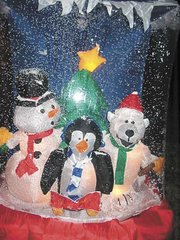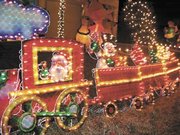 Jim Klock, 47, of Ashburn Village, thought of Clark Griswold from "National Lampoon's Christmas Vacation" when he decorated his home for the Ashburn Village Holiday Light Tour.
To say it's over the top is an understatement.
LED lights line the perimeter of the home on Cowgill Court and a variety of blowups come with life-like snow scenes. There's penguins, a Snoopy, a snowman and pandas, a train, a merry-go-round and Santa and reindeer on a sled.
"The whole theme was the Clark Griswold Christmas," said Klock, who works for the U.S. Secret Service protecting the White House. "We had watched the movie so many times with Chevy Chase."
KLOCK DID ALL the electrical work, using 500 lights, nine inflatables, 300 feet of extension cords and four transmitters that react to music and control the flickering lights.
"Each [light] reacts to the beat of the music, so they go back and forth," he said. "They correspond to the music itself. So it blinks to the beat of the music."
He spent about 40 hours setting up the display with daughter Samantha, 11, a sixth-grader at Farmwell Station Middle School. "Last year we came in second, so this year my dad tried to outdo himself," she said.
"The thought was we had to cover the whole house and do something spectacular and impress the judges," said her dad.
Son Tommy, 13, even got up on the ladder and roof to install the lights. "I like how the lights blink to the music," he said.
It was too much on one circuit breaker so he wired it into eight different outlets inside the house. When asked about his electricity bill, Klock laughs. "I'm afraid to look. … They've been up since after Thanksgiving. The goal was to keep them all through New Year's."
Judging takes place this weekend by members of the Ashburn Village Community Association. They award first-, second-, and third-place honors in the single-family home and townhouse categories to some 5,000 homes in Ashburn Village.
Klock is also president of the Dulles Little League Baseball and coaches seventh- and eighth-grade basketball. He is married to wife Judith.