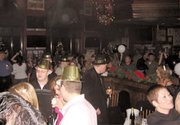 <b>PEOPLE</b> prepare for Christmas weeks in advance, yet preparations for New Year's Eve typically don't start until after all the presents are put away. But for many, New Year's Eve is the highlight of the winter holiday season. In Arlington, many nightlife hotspots are pulling out all the stops this Dec. 31. While there are a plethora of New Year's Eve celebrations in Arlington, here are three places in the county to ring in 2009:
<p><b>DOMASO TRATTORIA</b> is an upscale restaurant and wine bar in Rosslyn that opened earlier this year. For its inaugural New Year's Eve celebration, Domaso will have a special menu featuring some of its most eclectic tastes.
<p>The restaurant is offering a five-course meal featuring butternut squash soup, mushroom risotto and cedar roasted arctic char, among other items. The meal costs $95 and comes with wine pairings. "It's a good value considering the economy right now," Domaso spokesperson Charissa Benjamin said. Domaso is also offering a three-course meal with wine pairings for $75.
<p>The restaurant will also feature Latin and electronic music from a local DJ, drink specials between 10 p.m. and midnight and a complimentary champagne toast at midnight. There is no cover charge for the party, Benjamin said, and one can attend without purchasing dinner.
<p><b>THE CRYSTAL CITY</b> Sports Pub is offering an all-inclusive package for its New Year's Celebrations.
<p>For $199, celebrators get a lobster dinner for two, a room at a nearby hotel and what Sports Pub owner John Finley described as a "hangover brunch" the following day. "It's a great deal" he said, "The best in the city."
<p>Finley said that the pub is including the hotel room with its New Year's Eve package as a service to the community. "We try to do that for the neighborhood," he said, "So people don't have to drive." The Sports Pub is also offering a $39.99 package with dinner, party favors and a champagne toast.
<p>But at Finley's massive, three-story behemoth of a bar, New Year's Day might be the bigger event. College football bowl games start at 11 a.m. and continue non-stop throughout the day. The Crystal City Sports Pub will be offering a full brunch on New Year's Day from 9 a.m. to 3 p.m., Finley said.
<p><b>TANDOORI NIGHTS</b> is an Indian restaurant located in heart of the Clarendon area. For New Year's Eve, the restaurant is offering an open bar and a sprawling buffet.
<p>According to the restaurant's manager, Sidharth Dhawan, the bar will feature all premium liquors and the buffet will have chicken, lamb, vegetarian dishes, kabobs, bread, rice and desserts. Access to this feast will cost $100.
<p>The restaurant will also feature big screen televisions to watch the ball drop in Times Square and a complimentary champagne toast at midnight. In addition to this, a DJ will be spinning South Asian records all night, Dhawan said. He expects over 100 people to come to the restaurant on New Year's Eve.
<p>"It will be a good time, for sure," he said.