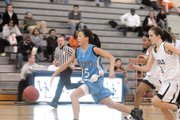 All the great players, whether it's at the high school, college, or professional ranks, have that sixth sense of when to put their foot on the proverbial basketball gas pedal. When their team is faltering, the best seem to take their games to another level.
So as Washington-Lee inched ever closer to rival Yorktown at the start of the second half last Tuesday night, it was only a matter of time before the Patriots' LaNia Charity, the lone returning all-district selection on the court, had other ideas about how competitive the Generals would ultimately make this game.
In a matter of moments after W-L had closed to within eight points to start the third quarter, Charity had two steals, two baskets, and one defining statement to her Arlington counterparts. The ensuing 55-32 victory over the Generals let it be known that there will be no free giveaways for Charity and her Patriots this season.
"She knows when to push the ball, when to just control it, and when to let things to just kind of take off," said Yorktown coach Kim Cordell of her star player, who finished with 19 points and six steals against W-L. "She has a great knack for feeling that in the game."
<b>OFF TO A 4-1 START</b> to the season, just one year after a breakthrough run to the Patriot Center in 2007-08, the Yorktown girl's basketball team has quickly re-emerged as a force to be reckoned with.
Much of it has to do with Charity, who has embraced more of a leadership role this season. Her calm presence oozes from the rest of her teammates. No matter the score, this team seems to have an understanding of just how well it should be playing.
Against W-L Tuesday, the Patriots used a fierce full court press that caused 16 General turnovers in the first half alone, jumping out to an 11-2 lead they never relinquished. And despite the talents of Charity, it's the potential of the collective whole that has driven this team to early season success.
"Even though we're a young team, our team is playing really good together," said Charity. "People underestimate us."
Added Cordell: "They aren't doing it as individuals. The five that are on the court are just so fluid together and know where each other is going to cut and know where each other likes the ball to get passed to. You can just see it. Some of the passes are incredible."
Helping out Charity against W-L were sophomore Brooke Huffman (10 points, five rebounds) and senior Shannon Briggs (eight points).
Cordell credits Yorktown's surprising run to the Patriot Center a year ago for giving the team the necessary confidence and "taste" of the big time this season.
The Patriots stiffest competition in the National District this season should come from Mount Vernon, which has already scored a huge upset, defeating T.C. Williams earlier this month.
But Yorktown's lone loss came to a Lee team many figure to be a top team in the region. And the Patriots' three wins have all been close, down-to-the-wire victories. It's all just the beginning for a team that has an innate sense of just how far it could go this season, something unbecoming of a group of high school girls.
"They experienced success and we've never looked back," said Cordell.
Yorktown and W-L will meet again on Jan. 27.