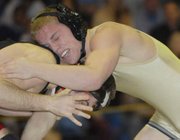 Westfield wrestling head coach Chuck Hoskins stood near the winner's podium and shook his head.
"Right now, it is hard to articulate myself because I am in a different world," he said.
Hoskins took a couple of pictures with his wrestlers, shook hands and accepted congratulations.
The Bulldogs' eight-year history is filled with success. On Feb. 9, the team won its fifth-consecutive Concorde District title. The Bulldogs boast 30 individual district championships, 40 Northern Region medalists and 10 state medalists.
The one thing missing, however, was a Northern Region team title – until Saturday.
"In all the years that I have been coaching — this is my 17th year — I have never seen or experienced the way that these guys wrestled," said Hoskins.
The Bulldogs outlasted defending champion Langley to take the title 204-167 at Fairfax High School on Saturday, Feb. 16. Robinson (126 points), Hayfield (123) and Lake Braddock (121) rounded out the top five.
"It is a friendly rivalry, but it is certainly going to be a rivalry. They are going to continue to be solid," said Langley head coach John Belyea of the Bulldogs. "They have great athletes over there and they have a great coaching staff. They are doing the right things."
The Saxons finished the day with a meet-high four gold medalists. Michael Bowman (125 pounds) and David Helmer (152) each won a third-straight region title; Colin Zoski (135) won his second title; and Anthony Kotoriy (103) took home his first title after a second-place finish last year.
"We knew that they had four guys in the finals and that they would probably have four region champs," said Hoskins.
It was Helmer's match against Hayfield's Steven Ours that was the highlight of the final round. Ours, the reigning 152 pound region champion, was looking to avenge two regular-season losses to Helmer. In the two wrestlers previous match, Helmer pulled out a last-second comeback.
The normally talkative crowd grew silent as the match began. All attention turned to the middle of the mat.
"I get so pumped up and ready to go," said Helmer of big matches.
The first period of the match ended without a score. In the second period, both wrestlers earned escape points to knot the score at 1-1. With the clock winding down in the third period and overtime looking imminent, Helmer managed to score a takedown on Ours to take the match.
"It came down to the end," said Helmer. "I was trying to go as hard as I could."
Added Belyea: "I'm sure the fans got what they came for."
HELMER'S WIN was one of six matches to be decided by two points or less. Of the 14 weight classes, only one final was decided by a pinfall and four were decided by major decision.
"There are some good coaches in the region and they are raising the level around the region," said Belyea of the competition in the Northern Region this year.
The one pin came from Westfield's Jake Carey, who pinned Justin Johnson from McLean in 3 minutes, 38 seconds.
Carey, a four-time district champion earned his first region title with the pinfall.
"It is just great to finally achieve it," said Carey, who has finished fourth, third and second in the region tournament during his high school career.
Carey was joined by Tyler Hutchens (130), winning his third region title and Nick Grinups (140) at the top of the podium.
"The champions did what they were supposed to do, but it is the guys that don't normally get the credit that just stepped up and performed," said Hoskins.
Kevin Koch (152 pound, 4th place), Greg Bush (189, 4th), Jeremy Ryan (112, 3rd), Brandon Berling (135, 3rd), Austin Fallon (171, 3rd), Lamar Osusu (215, 3rd), and Jarrod Branch (125, 2nd) will join Hutchens, Grinups and Carey at the VHSL AAA State Tournament on Feb. 22-23 at Oscar Smith High School in Chesapeake.
"We have ten guys going to states," said Hoskins. "If we can do the same thing at the state level – that is a tall task, but maybe they are too young to know any different."