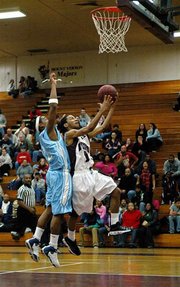 Yorktown outlasted the top-seeded Mount Vernon for the second time in eight days to win their second straight district title.
Patriot guard Simon Kilday, hit a three-pointer with over a minute remaining to break a 52-52 deadlock. Mount Vernon forward Skylar Jones answered, cutting the margin to a single point with 40.7 seconds remaining. Yorktown hit late free throws and got an offensive putback from Kilday, to score five straight points and cling to the championship.
The Majors entered the fourth quarter down eight points. Led by National District Player of the Year and Defensive Player of the Year Marquel DeLancey who scored 16 of his game-high 21 points in the fourth quarter, the Majors couldn't quite get over the hump.
"We try to control the tempo with our zone (defense) and be patient on offense," said Yorktown head coach Rich Avila. "It's just so hard to do for 32 minutes because they (Mount Vernon) are just so explosive, they can score in bunches and when you have a kid like DeLancey who can take over the game out there, it's difficult to do that."
Yorktown used their zone defense to stifle Mount Vernon early, holding the Majors to seven first quarter points. The Patriots led 28-16 late in the second quarter.
"They outplayed us particularly in the first half," said Mount Vernon head coach Alfonso Smith. "With a team that plays pretty well, it's real difficult to put ourselves in a position to win when we play a bad half from the start."
The Majors sandwiched 15 consecutive points between the intermission and briefly took the lead before Yorktown again slowed the pace.
"We played twice before… we knew it was going to be our zone (defense) against their man (defense). I told my guys to be patient," Avila said.
Mount Vernon narrowly missed their second district championship in three seasons. Instead, Yorktown won its second straight.