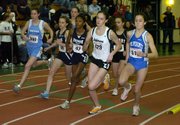 Yorktown senior Jaclyn Smith carried the Patriots in the Northern Regional indoor track and field championship, which was held at the field house at George Mason. Smith won the triple jump (38 feet, 1/4 inch), finished fifth in the 55-meter dash (41.87 seconds) and 10th in the long jump (16 feet, 4 and 1/4 inches).
She was the catalyst for the Patriot girls, who were edged by Edison in the National District meet two weekends ago, finishing 11th overall (24 points). Lake Braddock won in both girls and boys meets.
In the 1,600 meter run, Yorktown's Lindsey Hunt (5:26.44) placed seventh, while Lyndsey Wilcox (5:44.22) finished 13th. Kelsey Coia ran a 3:14.36 in the 1,000-meter run, also finishing 13th.
Wakefield's Sarah Sneed was seventh in the high jump (5'0") and 14th in the long jump. For Washington-Lee, Kimsue Grant was fourth in the triple jump.
On the boys side, Yorktown's Ross Cortes was fifth in the high jump (5'10") and seventh in the long jump. Washington-Lee's Luke Malley was ninth in the 1,600-meter run, while Wakefield's Tim Cossey finished 11th. Both were team-high boys finishers.
<b>IN WRESTLING,</b> Yorktown senior Chris Dola placed seventh in the 215-pound weight classification in the Virginia AAA state tournament, which was held this past weekend at Oscar Smith High School in Chesapeake.
Dola lost his first match, but earned three consecutive victories — two by pinfall — to finish his senior campaign with a 44-3 record. Dola won the district title and finished second in the regional tournament, both at 215-pounds.