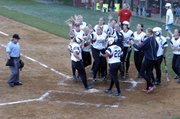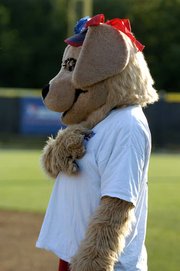 Oli Keohohou sits down in a folding chair along the right field foul line and signs autographs for a crowd of eager fans. The Washington Glory first baseman, who just an hour earlier blasted a home run over the left field fence in the Glory's 10-0 win over the Chinese Taipei national team at the Westfield Softball complex in Chantilly, smiles as she chats with the young girls huddled around her. This scene is a common one after home games for fans of the Glory, a National Pro Fastpitch team in its second year of existence.
"When I was growing up, when I went to an Orioles game, you could come back with 15 autographs. You can't do that anymore," said Washington Glory owner Paul Wilson. "That is what I love about this league. It is highly accessible and it is something that the ladies want to do."
<b>THE REIGNING NPF</b> Cowles Cup champions are in the midst of seven-game home stand against Chinese Taipei and the fellow NPF team, the Chicago Bandits. On Tuesday night, the Glory avenged a 3-2 extra-inning loss on Monday against Chinese Taipei by pouring on 10 runs in the first four innings to earn the victory. Along with Keohohou's homer, second baseman Courtney Bures hit her fifth home run of the year and center fielder LaDonia Hughes went 2-for-4 with four RBIs. Glory pitchers Sarah Pauly and Taryne Mowatt combined for the shutout, allowing two hits over seven innings of work.
"We feel really good where we are at," said head coach Carie Dever-Boaz, whose team has also played the Venezuela national team and Team U.S.A this season. "We believe that the whole time, we have a target on our back. Last year, nobody knew us. This year, everyone is gunning for us. We have to bring our best game every time. That is what we working on doing."
Dennis Wince, co-head coach of the Vienna Stars 12U team, brought his daughter and a few of his players to watch the game on Monday night.
"It is a great chance to get out and see these girls play at the highest levels. It really inspires my daughter. It inspires my team," he said. "It truly inspires the girls on my team to play harder and to want to do well at not only sports, but in life. Having them there as female role models is important."
The team is aware of who is watching them.
"It is really important for the young girls in our country to have a good positive role model in a professional sport," said Dever-Boaz. "I think our girls take a lot of pride in that and they have done a really good job reaching out to the girls."
LAST MONTH, the Glory and PONY Baseball and Softball announced a partnership to host "Glory Dream Builders Tournaments" as well as teaming up to offer clinics and specialized instruction for players and coaches. The Glory has also created a nonprofit organization, named "Champions for Children," which will reach out to disadvantaged and at-risk youth around the area.
"These ladies want to impart the knowledge," said Wilson. "It is all part of giving back. It was the reason that we wanted to bring the team here, give more exposure to softball in the area as well as giving them the level of role model that is accessible."
Midway through their second season, the Glory have started to see their fan base grow.
"Last year, when it started out, you kind of looked around and wondered if it was going to survive," said Glory announcer and play-by-play man Jarrod Wronski. "When you start the season drawing 200 and you end the season drawing 2,000, it shows that the growth is there."
Bures, who grew up in Haymarket, VA, has witnessed the Glory's raise in popularity locally.
"When I come back home, everybody knows about the Glory," she said.
So, after every home game, the Glory pull out their folding chairs and sign autographs, no matter how large the crowds get.
"That is one of our top priorities, being role models for the kids. They are our fan base," said Bures. "We were just like them. We were all little girls playing ball and we all wanted somebody to look up to."