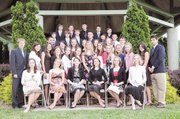 Send announcements, which are open to the public at no or minimal cost, to The Loudoun Connection, 7913 Westpark Drive, McLean, VA 22102 or e-mail to loudoun@connectionnewspapers.com. Deadline is Friday, two weeks before the event. Photos/artwork encouraged. For more information, call Jennifer Lesinski at 703-917-6454. For additional listings, visit www.connectionnewspapers.com.
Katrina Villavicencio, a Monroe Technology Center student in the graphic communications program, has received a $500 scholarship from Lighthouse Concepts, a Leesburg-based graphic design and marketing firm. Villavicencio of Leesburg will attend Virginia Tech in the fall to continue studies in the graphic communications field.
Gov. Timothy M. Kaine (D) has appointed Robert L. Greene of Ashburn, principal at Syncom Venture Partners, to the Virginia Retirement System, board of trustees.
The Loudoun Sheriff�s Office took first place in the 2007 Virginia Law Enforcement Challenge for traffic safety enforcement in the category of Virginia Sheriff�s agencies whose total number of deputies falls between 451 and 700. As the largest full-service Sheriff�s Office in the state the Loudoun Sheriff�s Office stands alone in this category. The agency must still however, receive a minimum number of points to receive an award.
Loudoun Volunteer Services honored its final two student volunteers of the month for the 2007-08 school year. Gabrielle Clardy, a rising junior at Broad Run High School, received recognition for her service as a sophomore representative in the Student Council Association (SCA), Key Club and the Claude Moore Community Builders program of Loudoun Cares.
Amanda Kaeleigh Adams of Ashburn has been selected by the University of Mary Washington in Fredericksburg for honors admission for the fall of 2008. She is the daughter of David and Theresa Adams and a graduate of Stone Bridge High School.
Adams has been named to the honor roll and has been inducted into the National Honor Society and the Spanish Honor Society; is a member of the key club, ski and snowboard club; played junior varsity volleyball, junior varsity and varsity softball and volunteers at Loudoun Hospital.
The following local students graduated from the University of Mary Washington Saturday, May 10, from a class of 1,217 students: Mary Ellis, Feld Giesy, Evan Henry, Monyet Hill, Andrew King, Ashley Kline, Sommer Long, Richard Pannel, Eric Pearson, Andrew Pelletz, Stephen Premo, Christopher Siepmann, Jacqueline Slebrch, Kerri Spaulding, Peter Sturke, Anna Sullivan and Joann Tong.
The Loudoun Volunteer Services board of directors has selected its 2008 Student Volunteer Scholarship recipients including Katie Mercuro, Kellie Schlosser, Broad Run and Chelsea Gilchrist, Stone Bridge. Each was awarded $500.
Through the scholarship program, graduating seniors in each Loudoun County public school and the C.S. Monroe Technology Center, as well as private school and home-schooled seniors, are eligible for at least a $500 scholarship. The program is funded each year by donations from Loudoun County businesses, civic groups and individuals.