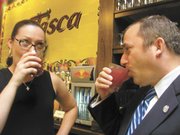 The time was 5:20 p.m. on a gusty December afternoon in 2006 when Special Agent Katherine Matikonis walked into La Tasca Restaurant on King Street in Old Town. She sat down and ordered Sangria, a cocktail that was illegal at the time — forbidden under 1930s regulations encouraging temperance. Matikonis charged the restaurant with multiple code violations, initiating a widespread confrontation between regulators and restaurateurs that would culminate in a statewide legislative effort earlier this year. Fortunately for La Tasca and every other restaurant that wants to serve the traditional Spanish drink, the Sangria legalization effort of 2008 was a success.
Sangria finally became legal on July 1.
"This whole thing has been just totally absurd," said Uno Pizzaria of Arlington manager Richard Jarrouj, who was forced to take Sangria off the menu earlier this year after he received a cease-and-desist letter from state regulators. "Our customers thought it was totally ridiculous when we told them we had to take it off the menu."
The Sangria legalization effort was unintentionally launched by the Alexandria Gazette Packet, which published the results of a Sangria investigation on April 26, 2007. Titled "Sangriagate," the article traced the history of the legislation outlawing the drink and quoted state officials who said they would enforce the existing 1930s-era ban on mixing wine with distilled spirits. Contacted by a reporter for his reaction to the regulatory crackdown at La Tasca, Del. Adam Ebbin (D-49) vowed that he would sponsor legislation to legalize Sangria.
By August, he convened a meeting between several area restaurants who had been having a difficult time dealing the state regulators. After meeting with representatives from La Tasca, Rustico and Jaleo, Ebbin began crafting language that would eventually be introduced as House Bill 1269 when the General Assembly convinced in January. The bill sailed through the legislature earlier this year with little opposition, and many restaurants already have Sangria back on their menus.
"It sells itself just by sitting there on the bar," said Shana McKillop, manager of La Tasca, referring to the six glass containers regulators once made her dump out. "People like to see what they are drinking."
<b>SINCE COLONIAL TIMES</b>, Virginia's government has regulated alcohol differently than other products. From 1789 to 1822, alcoholic sales were limited to taverns. Yet as the temperance movement began gaining momentum in the 19th century, opponents of alcohol consumption joined forces with other reform efforts of the era. After the Civil War, the government expanded licensing of alcohol sales to include restaurants. Then in the 1870s, jurisdictions across began initiating local bans on alcohol sales or limiting sales to state-owned operations. By 1900, three quarters of Virginia's jurisdictions were "dry" even though alcohol consumption increased. Meanwhile alcohol opponents mobilized to oppose liquor licenses during public hearings all over Virginia.
By the early 20th century, groups like the Virginia Women's Temperance Union and the Anti-Saloon League were lobbying for a statewide ban on alcohol sales. The movement culminated in 1914, when voters overwhelmingly supported prohibition in a statewide referendum. Alexandria residents voted against the measure four to one, a wider margin than any other jurisdiction. Nevertheless Alexandria went "dry" and Portner's Brewery was forced to shut its doors. All alcohol distributors were forced to shut down at midnight on June 30, a balmy Tuesday night in the early summer of 1914.
"Many final drinks were indulged in Tuesday night," noted the Fairfax Herald on July 3, 1914. "And many men were killed or injured in the brawls that followed."
By 1914, Virginia's temperance lobby had moved its focus toward instituting a national ban. In 1920 they successfully passed the 18th Amendment, which prohibited the "manufacture, sale, or transportation of intoxicating liquors." Yet after the 1929 stock market crash and the onset of the Great Depression, the national mood shifted and the prohibition experiment became increasingly unpopular. Virginia was one of the last states to join the anti-prohibitionist movement, approving the amendment in a statewide referendum on Oct. 25, 1933. In response to the end of prohibition, Virginia created the Department of Alcoholic and Beverage Control — a vast new state bureaucracy with its own system of right and wrong.
"They set the price, and there is no competition," said state Sen. John Watkins (R-10), who has led an ill-fated effort to privatize Virginia's liquor sales. "Virginia consumers suffer as a result because you end up paying a lot more in Virginia than you do in Maryland or D.C."
<b>VIRGINIA'S MONOPLOY</b> on the sale of distilled spirits is kept in place by a powerful lobby in Richmond that has thwarted every privatization effort that Watkins has attempted over the years. Restaurants are forced to buy from the Virginia monopoly even though they might be able to get better prices elsewhere. And when special agents from the department arrive at restaurants, they look for state-issued stamps to make sure distilled spirits are state-issued liquor.
Sen. Watkins said that wholesalers for beer, wine and distilled spirits profit from the three-tiered system, and they pour vast amounts of money into lobbying efforts to maintain the status quo. As a result, Watkins said, the Virginia wine industry has suffered enormously because most Virginia wineries operate on a small scale that large distributors won't bother with them.
"They are one of the reasons that Virginia wines are being held down in the national and international market," said Watkins. "The wineries aren't allowed to self distribute."
Although the General Assembly did not take steps to free Virginia's wine industry from the three-tier system, legislators were able to end the Sangria crackdown. Ebbin's bill became part of a larger reform effort in the House and became incorporated into a bill with a Republican patron for a better chance of making it through the secretive subcommittee process. Meanwhile, on the other end of the Capitol, senators were trying to close the martini loophole. Because the 1930s-era regulation banned mixing distilled spirits and wine, a strict reading of the law would outlaw the martini, which is a distilled spirit mixed with vermouth, a wine. So the Senate version of the bill was written in a way that made it legal for bars to offer a wide array of other drinks — like the a "boilermaker," a combination of beer and spirits.
"I think that cost it some votes on the House side," said Tom Lisk, a lobbyist for the hospitality industry. "Some lawmakers from rural parts of the state will always vote in a way that discourages the availability of alcohol."
One of the 16 votes against the Senate version closing the martini loophole was Del. Robert Marshall (R-13), a conservative member from Manassas who would later organize an ill-fated campaign to become the Republican for the open seat in the United States Senate. Marshall and other conservative members were on the losing side of the Sangria Legalization Act of 2008, which was signed into law by Democratic Gov. Tim Kaine on March 10. Starting July 1, the Sangria prohibition enacted in 1932 will become a relic of the past.
"It seems the Republicans are living in a different era," said Del. Brian Moran (D-46) during a Sangria-legalization party at La Tasca earlier this month. "They prefer dirt roads and alcohol prohibition."