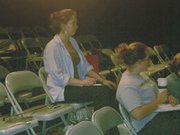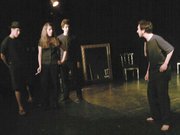 For the past several weeks, the black box theatre at H.B. Woodlawn High School has been home to the Empty Chair Theatre Company as they rehearse for their rendition of "Richard III." Empty Chair is an entirely student run organization, made up of high school and college students, mainly from the Northern Virginia area but including students from as far away as Greensboro, North Carolina.
Empty Chair Theatre Company was founded by Arlington Resident Elizabeth Nearing and Alexandria resident Julia Sears, two friends who met at a Shakespeare camp they attended in high school. Both wanted to create a place where all students could release their passion for theater.
"We were talking about it and how so many students don't have outlets to do theater, that it would be fun to do an independent theatre company where we could create our own art in our own way on our own time," said Nearing, an H.B. Woodlawn graduate who has worked extensively in theater for many years, including directing a rendition of "Macbeth" through the high school theatre department.
Once they decided to create this creative outlet, Nearing and Sears decided to form not just a theater company, but specifically a Shakespeare company.
"It's free!" said Nearing, citing a reason for performing exclusively Shakespeare, adding that "We both really love literature, and it's something you can play with, more than contemporary theater.
Richard III is the third Empty Chair Shakespeare production, following a collection of famous scenes and a version of The Taming of the Shrew. Both of the founders have active and important roles in this show. Nearing is directing the show, and Sears is the assistant director and is performing in the show. She is also the fight choreographer, creating the sword slashing, body slamming action scenes which were in rehearsal practiced at both half and full speeds.
"I started learning [fight choreography] when I was younger at camps," said Sears adding that fight choreography was a particular theater interest of hers, having worked under teachers at the Shakespeare Theatre Company, adding that she had worked with "broadsword, knives, unarmed combat, rapier combat, daggers, quarterstaff and various other things," in her time working with stage combat.
This passion for the material and for theater seems to have paid off, as those performing at Empty Chair are happy with what is presented.
"I've definitely enjoyed it because it's not afraid to embrace both levity and tragedy, which is what makes Shakespeare so unique," said Mary Lynne Smith, or portrays Queen Elizabeth and others in Richard III.
The company itself, along with Nearing and Sears, is also being lavishly praised by all those involved.
"I've never done any [theater production] that wasn't through school," said Assistant Director David Rodriguez, who praised the genuine respect that the members of the company have for each other and the lack of conflict in the production process. He added that "we're making theater here that I've never had the chance to make."
WHILE MOST ARE from the Arlington and Alexandria area, one actress, Rebecca Speas took a train up to stay for three weeks and play the Duke of Buckingham in the show.
"It took some convincing of the parental unit, but she has a lot of trust in Elizabeth and Julia," said Speas, who also met Nearing and Sears at one of the various fateful theatre camps they have attended.
With both Nearing and Sears heading to college this fall- Nearing to Carnegie Mellon and Sears to the University of Washington (Seattle)- the future of the founders and of Empty Chair is not in any jeopardy. Nearing laid out a detailed plan for how the company would continue with the two away from the area for such long stretches.
"Summers. We still plan on doing summers, holding auditions during breaks, and then putting on shows during the summer," said Nearing.
Both of the founders are planning on persuing careers in the theatre business, Nearing as a Director and Sears as an actor. Beyond their personal aspirations, however, they hold out hope that Empty Chair could be a long run proposistion.
Nearing says that Empty Chair will go "as far as we can take it. If it means we move to New York in 10 years, sure."
Even with that uncertainty, there is one thing about the Company that is definite.
"If there is eventually an adult professional company within it, we will definetly keep the High School aspect alive," said Sears. "The idea is to give people the opportunity."
Richard III runs from July 10-13 at 7:30 p.m., with matinees on July 12 and 13 at 2:30 p.m.