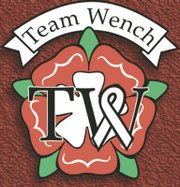 It might be more appropriate for people to hear the news about July 19's Prepare for Faire from a town crier instead of a newspaper. The event is a yard sale — if a yard sale took place during the Renaissance and benefited multiple sclerosis research. For sale will be a plethora of Renaissance-style "faire" like dresses, mugs, blades and boots all to help area locals prepare for the Maryland Renaissance Festival later this year without breaking their wallets.
"The Prepare for Faire yard sale is about getting a bunch of people's older faire garb, mugs and such and having the profits from that go to charity," Cyd Shelby, the coordinator for the yard sale and a Sterling resident, said. "This year it is a full-blown yard sale with regular items too, though we will of course have plenty of stuff just for Prepare for Faire."
SHELBY IS A member of Team Wench a group of mostly women who help raise money for research into multiple sclerosis and other fatal diseases. Shelby, who has been diagnosed with MS, along with two other women who wanted to find a way to raise money for research founded the group seven years ago. They were also Renaissance lovers and so melded the two passions into one.
"For some people [dressing up for the festival] is an actual warrant to follow the historical side of it; for some people it is a theater aspect and for others it's just about escapism. For me I started getting into Renaissance-type things a number of years ago because I loved the historical costuming of it. People want to see something that isn't modern, something that isn't every day," Shelby said.
The Prepare for Faire yard sale is a way for people to break into Renaissance festivals and costuming. Many items are usually expensive because most are made by hand. A pair of Renaissance boots can run between $300-$400, but can be found at the sale for around $50. Shelby said it's hard to find deals like the ones at the sale because there are so few sales like it anywhere.
All the proceeds will be benefiting the National MS Society, which also hosts a walk in Washington, D.C., that Team Wench participates in yearly, along with a variety of other events the team puts on. Over the years the team has raised more than $100,000 for a variety of charities.
While people probably won't be dressed in their Tudor garb for the sale there will be plenty to purchase, along with crafts and other more standard yard sale fare. The event will also feature food and a chance to learn a bit more about upcoming Renaissance opportunities.
"For many people this is a good way to get your feet wet and dive in," Shelby said. "If you think about it, when it comes down to all the different things you can do in the area it only costs around $18 a day for the Maryland festival and you're taken to another world, where as if you go to the movies you're paying $12 and you only get three hours of entertainment."
The sale will be on Stablehouse Drive in Sterling, from 9 a.m.-1 p.m. Visit www.teamwench.org for directions.