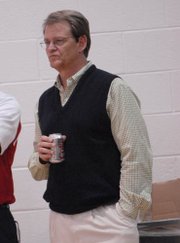 Julian King, a varsity assistant last season, was officially hired as the new T.C. Williams boys basketball coach on July 2, just days after outgoing director of student activities director Kerry Donley appointed new coaches for baseball and softball.
King, a physical education teacher at a private school in Washington, D.C., takes over for Ivan Thomas, who led the Titans to their first Virginia AAA state championship in 31 years during the 2007-2008 season. Thomas officially announced his resignation on June 6, opening a month-long process that included several viable candidates and two finalists.
"It's a big relief now that I finally know because we were in limbo for so long," King said outside the T.C. Williams gym late last week. "Now, it's a lot of putting things in order. The excitement is here, and now it's gone because there is a lot of work that needs to be done. It's time to work."
During the week-long interview process, which included a panel interview from boosters and athletic officials, King felt the familiarity he gained last season was vital as the deciding factor in the hiring process. Before Thomas announced his retirement, he had also quietly touted King to be his successor.
"It's going to be a continuation of what's been going on," King said. "It's not going to be as hard as it would have been had I not been on staff last year."
King inherits a program that went 78-11 over the past three seasons under Thomas, including a perfect 52-0 record in the Patriot District. Even though the Titans will lose seven seniors, including four college signees, T.C. Williams returns rising senior Edward Jenkins and rising junior Ryan Yates.
"The first thing I have to address that to the kids is that I have to lead my way," King said. "And with that, a lot of the principles I have, coach Thomas has. It's one of the reasons I took the job."
Thomas, who is in the process of relocating to the Williamsburg, Va. vicinity, agreed that King will also need to embrace the subtle differences, and be realistic about expectations.
"It's been 30 years since we've won a state title," Thomas said. "Are you really feeling the pressure of winning back-to-back? The thing he has to do is be Julian King, not Ivan Thomas. He'll be fine, regardless of what people say… I think Julian will do a great job here."
<b>KING</b>, whose hometown is Rhine, Ga., has been on a basketball odyssey since he was a 6-foot-6, 200-pound forward in the early 1990s. Electing to attend Temple University, he teamed with future NBA players Aaron McKie, Rick Brunson, Marc Jackson and Eddie Jones before transferring to Coppin State after two years.
At Coppin State, he was a college teammate of current West Potomac coach David Houston, and helped led the Eagles into the second round of the NCAA Tournament in 1997.
After college he went on to play internationally in Germany, Switzerland, Argentina and various minor leagues across the United State. King last played for the Quad City Riverhawks of the American Basketball Association before aggravating a knee injury.
"It's a great reward because I felt that I've put in time," King said. "This is going to give the opportunity to see what I can do."
<b>DONLEY ALSO HIRED</b> Andrew Simpson, who was recently promoted to become the new baseball coach, replacing Scott Grossi, who led the Titans to the Northern Region tournament for the first time in 10 years last season.
Simpson, who played baseball for Randolph-Macon College, was the head junior varsity coach for two years, before becoming a varsity assistant in 2008. He had a two-year 21-15 career record as a junior varsity coach.
"He brings a lot of enthusiasm and was part of the resurgence of baseball here, which I think he can keep going," Donley, who will leave the DSA post on August 1. "His biggest strength was continuity."
Dennis Day takes over the struggling softball program for Stacy Sloan, who resigned after two seasons when the Titans won two games. Day was head coach at West Potomac for seven years, winning a Patriot District title in 2005 and a career-best 19-5 record in 2006.
"He took over a program at West Potomac that had some similar characteristics and turned it around into a winning program," Donley said. "He's got all the tools and is very well respected around the other folks in the district."
Day, who is also an assistant varsity coach, Day was 2-11 in his first season taking over for longtime head coach Carol Horton in 2001, but quickly turned things around. During the 2007 season, he led the Wolverines to an 11-7 record, and a berth in the second round of the Patriot District.