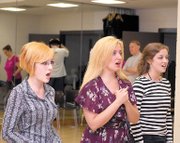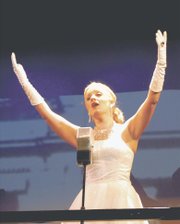 Childhood dreams; everyone had them, but few people had a realistic grasp of what they wanted to do for the rest of their lives when they're 6-years-old. Jennifer Lambert, the female lead in the McLean Community Players' production of "Evita" is an exception.
The New York City native did not grow-up in a family of actors or musicians, but after showing promise in her first grade production of "Cats," the theater quickly became Lambert's passion.
"A lot of people came up to my parents after the show, telling them that they thought I was really talented," she said. "I enjoyed it so much, and ever since then I've had the bug."
She continued to refine her talent throughout primary and secondary education, from fifth grade on she has been in at least one performance a year. It was while performing that Lambert met her high school sweetheart who she would later marry.
"I took every opportunity I could," she said. "There was a great theater program where I grew up [in Staten Island]."
SHE WAS AWARDED a performing arts scholarship from Wagner College, where she got her bachelor's degree in theater and speech. She also began acting in the city in what she describes as "off-off Broadway" productions.
"It's a hard, hard life," Lambert said. "I have friends who are on Broadway, and I was doing it for a while myself. It's just a tough business."
With that knowledge, she went on to get her master's degree in education. However, Lambert also continued auditioning, and she went on a national tour with "Christmas Carol: the Musical." Together with her husband, she moved from New York City to Boston and then to Oakton.
"At first, I couldn't believe I was moving here," Lambert said. "Here I am, coming from New York City. All I was thinking was, 'What, acting-wise, is going to be in Virginia?'"
To her surprise, Lambert discovered that community theater in the area offered many opportunities for those with a passion for the craft.
"One of my first auditions here was 'Evita' in Vienna. I didn't get it, but it introduced me to theater around here. I talked to some people to find out what else was going on in the area and made some early connections to people in the theater community."
LAMBERT is currently a fifth grade teacher of the gifted and talented at Sangster Elementary in West Springfield. Inspired by the theater programs she was involved with growing up, Lambert created an after-school musical theater program that serves more than 125 children throughout the course of a year.
"I'm not trying to get all of my students to go out and be Broadway stars," she said. "But, number one, I want to introduce them to the theater and performing arts and, number two, what they learn they can carry everywhere. I have had kids [in the program] whose public speaking improves and whose confidences improve."
Two of Lambert's students from her theater program are performing with her in "Evita." Another co-performer, Randy Jones who plays the male lead, said Lambert always brightens up the stage.
"I like her too much," he said. "I'm supposed to be angry at her throughout the show but it is so hard because she is too wonderful and too talented."
"Evita," which opened to a 300-member audience last Friday, has always been a character that Lambert wanted to bring to life. Even as a child she had an "Evita" poster hanging on her bedroom wall.
"I was thinking the other day, 'What role am I going to look forward to after this? What do I want to play?,'" she said, "because this has always been my dream role."
More like this story