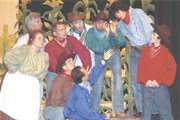 Send announcements, which are open to the public at no or minimal cost, to The Loudoun Connection, 7913 Westpark Drive, McLean, VA 22102 or e-mail to loudoun@connectionnewspapers.com. Deadline is Friday, two weeks before the event. Photos/artwork encouraged. For more information, call Matthew Razak at 703-917-6457. For additional entertainment listings, visit www.connectionnewspapers.com, E section.
<ro>Last Chance
<lst>Wolf Trap Foundation for the Performing Arts and Theater of the Stars is holding auditions for teen extras to appear in the national touring production of Les Misérables when it makes it stop in Vienna, Aug. 29-Sept. 7. Auditions are being held Saturday, July 19, at Tysons Corner Center, 1961 Chain Bridge Road, McLean, in the Fairfax County Room on the second level.
Registration for auditions begins at 10 a.m. and ends promptly at noon. Individuals 14 to 17 years old are eligible, however teens with an older look are preferred, as they will be playing college aged characters. Candidates are required to bring two headshots and a resume, with all relevant contact information included. Registration forms are available at www.wolftrap.org and www.shoptysons.com.
Applicants should prepare the Les Misérables numbers "Master of the House" and "At the End of the Day." Accompaniment and lyrics sheets will be provided during the audition. Applicants must be available from Aug. 18-Sept. 7 for all rehearsals and performances. Rehearsals begin Aug. 18 and will be held in West Point, N.Y., until Aug. 25. Some travel expenses to and from New York will be paid.
Families of children cast as extras will receive discounted tickets to select performances. Contact wolftrap@wolftrap.org or call 703-255-1900.
Starshine Theater of Great Falls presents its summer drama camp play "The Dragons of Darkmoor ~ How Magic Came into the World,"
Saturday, July 19, at 7:30 p.m., at The Waddell Theater, Northern Virginia College, Sterling. This original play stars actors, dancers and singers, ages 7-17. Seats must be reserved in advance by contacting
Patricia Budwig, play director, StarshineTheater@aol.com.
<ro>Ongoing
<lst>Not Just Shakespeare Theatre Company presents "As You Like It," at the reflecting pool at Morven Park, Leesburg, July19-20, 26-27, starting at 6 p.m. Visit www.notjustshakespeare.com for ticket info.
Oatlands, a National Trust for Historic Preservation site, is holding its annual "Four Seasons of Oatlands" Art Show and Sale, located at 20850 Oatlands Plantation Lane, Leesburg. The juried art show runs from through July 27, Monday-Saturday, 10 a.m.-5 p.m., Sunday 1-5 p.m. and is free of charge. Call 703-777-3174 or visit www.oatlands.org.
The Arts Council of Fairfax County and the Greater Reston Arts Center (GRACE) present the annual juried exhibition Arts Council @ GRACE, through Aug. 1. Art works in all media by 21 artists, including Sterling artist Elissa Farrow-Savos, will be exhibited at the GRACE gallery located in Reston Town Center, 12001 Market St., Suite 103, Reston. The GRACE gallery is open Tuesdays-Saturdays, from 11 a.m.-5 p.m. Visit www.restonarts.org or call GRACE at 703-471-9242.
Paintings and drawings by Arlington resident Frederick Markham will be on exhibit, from through Aug. 1, at the Waddell Art Gallery at the Loudoun Campus of Northern Virginia Community College, 1000 Harry Flood Byrd Highway, Sterling. Gallery hours are 9 a.m.-7 p.m., Mondays-Fridays. Contact Donald Depuydt at 703-450-2627 or ddepuydt@nvcc.edu.
A series of aerial photographs by Loudoun County photographer Jim Hanna is on exhibit at Washington Dulles International Airport through Aug. 26. The exhibit, coordinated by the Washington Metropolitan Airport Authority and Gallery 222, is the fourth in the program's rotating series of displays. The exhibit is installed in the area beyond the security checkpoints in the Main Terminal on the Arrivals Level. Visit www.gallery222.com.
<ro>Coming Soon
<lst>The Sterling Playmakers present "Oklahoma!" weekends July 25-Aug. 10, at Potomac Falls High School, 46400 Algonkian Parkway, Sterling. Showtimes are Fridays and Saturdays, at 8 p.m. and Sundays at 2 p.m. Cost: $15 reserved, $12 general admission. Call 703-437-6117 or visit www.sterlingplaymakers.com.