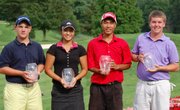 Springfield Golf and Country Club hosted its 33rd annual junior golf tournament July 7-10. Two local players won their respective divisions— Centreville's Ji Soo Park (boys, ages 14-15) and Alexandria's Janice Kim (girls).
Park, from Chantilly, attributed his easy 6 and 5 win over Casey Taylor of Fallston, Md., to a quick start.
"I birdied the first three holes and led 4-up at the turn," he said afterward. "After two more birdies on 11 and 12, I closed it out on 13." Last fall, Park helped take Chantilly to a runner-up finish in the Virginia Group AAA state championship.
Kim, a rising freshman at Annandale, beat Bryana Nguyen of Columbia, Md. Dormie three on the 16th hole, a charged-up Kim flew the green on her approach. Facing a delicate, downhill chip from 10 feet off the green, she calmly nestled her ball to within six inches of the cup for a tap-in par and the win.
"I was two down early, but told my self to calm down," she said.
Park and Kim have qualified for two important national junior tournaments later this summer. Both are headed for the Optimist International Junior Championship July 24 – August 3 in Palm Beach, Fla. Each also won sectional qualifiers for The PGA Junior Championship at The TPC River's Bend in held Aug. 13-16 in Maineville, Ohio.
(Also playing in the Optimist are Alexandria's John Siegfried and Centreville's Sara Stanley.)
The tournament was created as a memorial to honor Springfield Golf and Country Club's first head golf professional, Bobby Bowers. Bowers was well known throughout the area for his work with junior golfers until his untimely death due to cancer in 1974. The championship is recognized as a major national event in junior golf competition due to the unique format of both stroke and match play. It's an opportunity for young golfers to test their competitive spirits in a format not often played.
According to the tournament's Web site, 240 junior golfers began stroke play qualifying for match play in four divisions — three boys and one girls division.
Former notable contestants include John Daly, who in 1979 lost his semi-final match to eventual winner, Jonathan Baker in the 13-and-under bracket. Daly lost again the following year, 11 years before he surprisingly won the 1991 PGA Championship.
<b>SEVERAL NORTHERN VIRGINIA</b> players finished well in the 2008 Virginia Women's Amateur Championship at Bayville Golf Club in Virginia Beach held on July 7-11. Suffolk's Lauren Doughtie won the championship, however Mimi Hoffman of Springfield and Belle Haven Country Club, made it to the championship flight consolation finals. Alexandria's Susan Podolsky, from the Mount Vernon Country Club, won the first flight, and Kay Tyler of Springfield won the second flight.