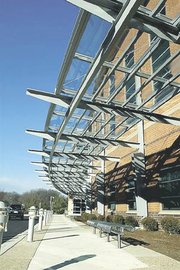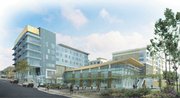 <b>Washington-Lee High School</b>
<p>When Washington-Lee High School's new building officially opened at the beginning of this year, teachers and students were amazed at what they saw.
<p>"I'm really excited to go to school tomorrow!" sophomore Hannah Dannenfelser said before the first day of classes in the new building.
<p>The new school building had an extra-wide main hallway that flooded with natural light. Assistant Principal Tyrone Byrd said that this was a huge improvement over the old school building.
<p>"The light is so bright and inviting," he said. "The old building was gloomy."
<p>For the nearly $100 million dollar rebuilding project, Washington-Lee had been under some form of construction for almost two years up until that point.
<p>Those funds were used to give the school a high-tech update. It now features a cyber café and dozens of touch-screen digital blackboards.
<p>"The technology is so inviting and encouraging for the kids," Byrd said. "[Also], teachers are looking to work with this so now we can get the top candidates."
<p>The rebuilding of Washington-Lee is not over yet. The school's athletic facilities and its parking lot are currently under renovation and are scheduled to be completed in the coming year and a half.
<p>But local school officials are thrilled with what has been done so far at the Arlington high school. "It's a spectacular building," Superintendent Robert Smith said.
<p><b>Westover Library & Reed School</b>
<p>It's been nearly a decade in the making, but construction on the new Westover Library/Reed School project finally got under way earlier this year.
<p>The new facility will house a brand new library along with a school for special needs students. It is being built on the current site of the Reed School, a historic but unused building.
<p>The plans for the new facility got underway in 2000 but experienced several delays. Concerns about maintaining the historic Reed building arose, as well as logistical problems with the coordination of County and Schools resources.
<p>"At one time this was thought to be a separate project but then we came together," County Board Chairman Walter Tejada (D) said. "A lot of people have been working a long, long time to make this happen."
<p>The new joint facility, which is located in the western part of Arlington near its border with Falls Church, will feature a coffee lounge and free wireless Internet for library users as well as a daycare center for Arlington Public Schools employees in the Reed building.
<p>The Westover Library/Reed School facility is scheduled to hold its grand reopening in the fall of 2009.
<p><b>Shirlington Bus Station</b>
<p>In the booming Shirlington neighborhood of South Arlington, a new bus station recently opened that seeks to serve the needs of this bustling area.
<p>The station features many high-tech amenities designed to make the use of public transit in the area more attractive.
<p>It is the county's first enclosed bus transfer station, and it consolidates several separate stops into one location so riders no longer have to cross a busy, multi-lane street to transfer buses. It also provides riders with an indoor waiting area and increased access to transit services and information.
<p>The station also features high-tech LED signs at each of the bus stops that display bus departure times along with other transit information. It also houses a Commuter Store, where transit users can purchase maps, SmarTrip cards and other transit-related items.
<p>"With modern amenities and bus service seven days a week, the Shirlington Station gives Arlingtonians even more travel choice and greater access to vibrant area businesses," County Board Chairman Walter Tejada (D) said in a statement.
<p><b>Arlington Mill Community Center</b>
<p>Construction on the new Arlington Mill Community Center has yet to begin. But when the new facility opens to the public, it will be used for a variety of different functions.
<p>The new community center, located on the site of the current Arlington Mill on the west end of Columbia Pike, will feature a residential building, retail stores and underground parking.
<p>The residential building will feature 192 residential units, 61 of which will be rented at below-market-rates to those with low incomes.
<p>It will also feature a 40,000 square-foot community center with a 9,000 square-foot gymnasium.
<p>County officials hope that this new development will help revitalize the economically sagging area on the western end of Columbia Pike.
<p>"This development accomplishes so much," County Board Chairman Walter Tejada (D) said in a statement. "It adds to the County's affordable housing supply and creates an inviting place to bring together residents, visitors and those using the community center's facilities."