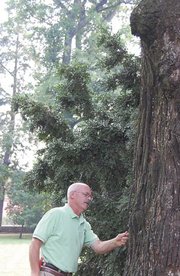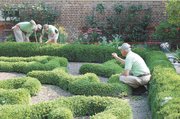 Tropical storms, drought. Cicada swarms, foxes, hungry deer. Fungal diseases, scale, blight. Perhaps not the Four Horsemen of the Apocalypse, yet these challenges will test anyone caring for 500 acres of grounds and gardens. And oh yes, tend the trees and flowers while a million people a year mill about the place.
Dean Norton has met these tests successfully at George Washington's Mount Vernon Estate and Gardens. The director of horticulture there since 1980, Norton calls upon a full-time paid staff of twenty-three and a few volunteers to manage both the fifty-acre parcel open to the public and 450 acres of field and forest. He also supervises the green house and the estate's livestock operations. Moreover, he does all of this with unfailing good cheer.
"I love it here," he admitted recently. "There is no greater honor than to work at such a beautiful and historic place." He also confessed that he is more of an administrative horticulturist now, often chained to his desk answering e-mails instead of tending to plants. "I still walk the grounds everyday and meet with my team, which, by the way, is the best in the historic gardens business."
Highly regarded by his peers, Norton lectures on the subject of "historically appropriate plants" throughout the country and abroad. Now the vice president of the Southern Garden History Society and he will assume the presidency next year. The Garden Club of America presented Norton with their medal for conservation in 1994. The Daughters of the American Revolution gave him a similar award in 1999, and the American Horticulture Society gave him their 2006 Professional Award. He has appeared on The Today Show, Good Morning America, and each cable channel dealing with homes, gardens, and history.
"Working with Dean and his staff has been one of the highlights of my six years with the American Horticulture Society," said Tom Underwood, the society's executive director. "His passion for his work and his sense of humor make him a great ambassador for Mount Vernon, the community, and American horticulture."
Jim Rees, the estate's executive director, echoed Underwood's acclaim: "George Washington had some terrific gardeners in the eighteenth century, but none would have held a candle to Dean."
Norton, 55, started at Mount Vernon as a Boy Scout playing taps at Washington's tomb. In 1969, while a sophomore at Fort Hunt High School, he volunteered as a garden intern. After graduating from Clemson University with an ornamental horticulture degree, he joined the staff at Mount Vernon in 1977 as the boxwood gardener. He became the estate's horticulturist three years later.
Norton met is future wife when he hired her to be an intern. "She was too cute to let get away," he said smoothly, likely having used that line before. Susanne Schrage-Norton and Dean live with their four daughters in the Woodley Hills neighborhood, just blocks from his office. Maintaining that his hobbies are his children, Norton actively supports their education. This fall will mark the eleventh year that Norton has been a PTA president—four years at Woodley Hill School, four at Walt Whitman Middle School and three at Mount Vernon High School. He nurtures his community's children as well as flowers.
Coincident with its recent expansion of exhibition buildings, the estate dramatically increased the landscaped portions of the public area. Norton created a list of historically appropriate plants for the landscape architect, and the results are spectacular. Sixty-five large trees form focal points in the newly planted areas. Arlington real estate executive and philanthropist Robert H. Smith funded the "Big Tree" project. "I traveled with Mr. Smith to a nursery in New Jersey during the winter of 2005 to select the trees," Norton said. "Each was about thirty feet tall and weighed over four tons, including the root ball. We paid between $17,000 and $25,000 for each tree. They gave the new areas instant maturity."
Norton seems as comfortable with public visitors as he is with visiting royalty and dignitaries. He has a ready smile and kind word for everyone, yet is a rigorous and devoted steward of the General's gardens.
His influence pervades the grounds and all recognize his contributions to one of the area's most visited landmarks. "Dean is a true Mount Vernon institution and his green thumbprint is evident everywhere on the estate," praised Boyce Ansley, Regent of the Mount Vernon Ladies Association.
Thinking of the old story about the cobbler's wife, I asked Norton what sort of garden he keeps at home. "A simple one," he said. "I naturalized it with native shrubs and plants. That's about all I have time for."