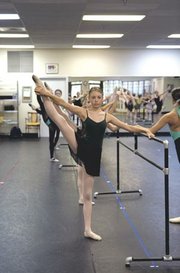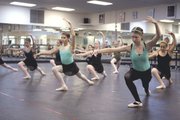 Television shows like "Dancing with the Stars" and "So You Think You Can Dance" have inspired the same type of dedicated following among its ever-growing audience as you'd expect from long-time Redskins loyalists.
While the television dance craze has generated a renewed interest in dancing nationally, the Burke community for decades has embraced the joy of dance. No better examples of this generational attraction to dance than Buffa Hargett of Buffa's Dance Studio and Barbara Sheppard of Barbara Sheppard's Academy of Dance, who having supervised the education of thousands of young dancers including their own daughters.
In September 1980, Hargett resigned from her full-time job and left a part-time gig as a dance teacher for Fairfax County to open her own dance studio. Her aim was to provide her then 3-year-old daughter, Melissa, the type of dance training that at the time seemed limited or lacking. She avoided incorporating a hard-line approach to teaching, believing there is something to offer each person whether it is creative, physical, mental or social. The philosophy adopted was "to teach kids the delight and responsibility of stage and theatre."
"Started with 1,500 square feet and one student — my daughter," said Hargett. "Pretty quickly though, the community was bursting through the doors. Burke is a wonderful, receptive home."
Hargett described the school's curriculum as being "like a tree that branches out as the students age." The 3- to 7-year-old program includes creativity and skill integration. As students grow older and more advanced, six-week programs are available to test their interests and a program of elevated commitment from September to June is offered to build skills and establish continuity. Styles offered include dance movement, pre-Ballet, Jazz, Tap, Pointe, Modern, Hip Hop and Lyrical.
While Buffa's expanded over the years to its current 8,000-square-foot studio with five separate dance spaces featuring new suspended dance floors at 9570 Burke Road, its very first student remains a fixture at the school, now as one of the 12 instructors. Melissa Hargett, who studied with her mother from age 3 to 18 before earning a degree in Dance from William and Mary, has been a teacher at the studio for the past nine years.
"Every year everybody gets better," said Melissa Hargett. "It is such a nice job to have."
CANDACE RACZYNSKI, Barbara Sheppard's daughter, agreed. "It is amazing to see the legacy my Mom has had helping our alumni and now their children build confidence and try challenging new things. I hope to have the same positive influence on my students" said Raczynski, who after years of studying in every one of her mother's classrooms as a youth eventually became an assistant teacher and finally a teacher at Barbara Sheppard's Academy of Dance. In recent years, Raczynski has taught her students in preparation for performances at the Patriot Center, the Junior Special Olympics in China, the Macy's Day Parade and countless other civic events in Burke and surrounding areas.
Being involved in the community was a pillar of the program Sheppard initiated when she opened her first studio in Maryland in 1976. She moved into Virginia and gradually expanded to five locations before slowly retracting over the years to "one huge teaching center" in Burke Towne Plaza at 9526 Old Keene Mill Road.
"Our school is family oriented and we know every student," said Sheppard, who as a child learned her first dance moves from a cousin who was in the Rockettes. "Anyone can teach steps. We strive to teach the whole person and inspire poise, confidence and character."
Sheppard's dance instruction begins with 3-year olds in a creative, fun atmosphere building confidence and motor skills. As students grow in age and experience, the high energy classes teach skills and technique in tap, ballet and jazz.
Sheppard, one of six instructors, some of whom are former students, currently teaches a class of preschoolers. "There are some students who have been turned on by 'Hannah Montana' or 'High School Musical' or 'Dancing with the Stars.' Most, who attend our classes, already liked dance or were involved before these shows became popular."
Nonetheless, the influence of these television shows may hit the curriculum more like a tornado than a pirouette. "'Dancing with the Stars' has sparked a growing interest in ballroom and salsa dancing," said Raczynski, whose own 9-year-old daughter has the talent and commitment to ensure the Sheppard dance legacy extends to another generation. "So I expect we'll look into creating those types of classes." And Burke can be expected to respond with a generational two-step into Buffa's and Barbara Sheppard's long after the celebrity dancers have taken their final bows.