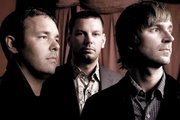 Virginia Coalition got its start in basements and garages all over Alexandria. Their first performance was in Georgetown. They enjoy coming back and performing for the hometown crowd, but they also enjoy discovering new Starbucks and sushi restaurants. They will perform on Saturday, June 14 at approximately 6 p.m. at the Red Cross Waterfront Festival. Andrew Poliakoff and Jarrett Nicolay answered questions on behalf of the band.
<b>Introduce yourself:


</b>Hello my name is Andrew Poliakoff and I'm one of the members of Virginia Coalition.
<b>How did you get your start in music and if applicable how did you form the group?
</b>I got my start in music in elementary school and was involved in the band and orchestra groups up until I graduated from T.C Williams. I had some really wonderful instructors, Ms. Finlayson, Ms. Spessler, Ms. Randolph and who can forget Mr. Baden! These folks taught me to turn my love of listening and imitating music into something that I could physically recreate and then into something that I could create on my own. In regards to VACO or what was to become VACO, that was something that got worked out in extremely informal basement and garage sessions all over Alexandria. Once we had all collectively gotten our driver's licenses, these, I guess you could call them "noise making sessions" became more frequent and we started looking for gigs. Our first one was in Georgetown at the Grog and Tankard and it was like someone had flipped a switch in my brain and I knew that I wanted to pursue this for as far and as long as I could.
<b>How long have you been performing?
</b>I have been performing professionally for about ten years, but I was making a racket and trying to get people to pay attention for as long as I can remember. My brother and I used to use brooms like they were guitars and pretend to be Twisted Sister in the mirror and that was a long time ago!
<b>What is it that you love about performing?
</b>At first it was all about "hey look at me aren't I cool," but as time has gone on I'm way more used to being in front of people and get a lot of satisfaction out of seeing an audience really engaged in a show. Seeing people singing along and forgetting their troubles is a very contagious experience.
<b>What is your best memory when it comes to music?
</b>The funny thing is that most of the really big shows are almost impossible to remember because you are so focused on executing the music and giving your all to the audience. Performing in general is a very different thing from being in the crowd and I've always wanted to watch one of our shows. So I'd have to say that singing goofy songs to my dog is my favorite musical memory.
<b>Where is your favorite place to play, either publicly or personally?
</b>I love all of the House of Blues venues because they are just about perfect in every way. The staffs love doing their job and the sound equipment is beyond "pin drop" quality which makes performing effortless. As a singer you can reach for notes that are normally way out of your range....it's kind of like having some sort of super power.
<b>Best compliment about a performance?
</b>I love any honest compliment about a performance but I suppose that recently the most gratifying tend to come from folks who have been serving overseas. Whether they are getting home or about to leave the people in the military really appreciate a good concert and are very expressive about that fact.
<b>Introduce yourself:
</b>My name is Jarrett Nicolay and I am in the band "Virginia Coalition."
<b>What is your favorite piece of music and why?
</b>That's a tough one. I've got many different "favorites" for different situations. Brian Eno's "Ambient Music for Airports" is an album I've been giving a lot of time to lately. But then again, I have been finding myself in quite a few airports recently...
<b>Who would you love to play with?
</b>I'd love to make an album with T-Bone Burnett. He's is one of my favorite producer/musicians. He keeps music human yet innovative. Why? Probably because his name is T-Bone.
<b>Describe your sound:
</b>We used to say we sounded like "jello" or something stupid because we never knew how to describe the sound of something....so I'll go with "Melodically Confessional".
<b>Biggest musical influences:
</b>I'd say songs influence us more than musicians typically. When you hear a song or sound that you've never heard before it's inspiring. It makes you want to create. That's what's great about music, is that it is this ever-evolving environment that has a collective mind of its own. Kind of like wikipedia...
<b>Other influences:
</b>We are down with all things Space. We're pretty big Pop Physics nerds. "Black holes," "Space-time"... you know, stuff like that. I've got way too many Star Trek episodes on my iPod. Kirk is a pimp.
<b>Where have you toured?
</b>We can pretty much tell you where to find a good sushi restaurant, a laundromat, and a Starbucks in every town in the country.
<b>Anything special about the upcoming show?
</b>Hometown shows are inherently special. Our new record is called "Home this Year" so it's extra sweet getting to play songs from it at home with family and friends....and hopefully in the vicinity of a cotton candy!
<b>Future plans:
</b>Ironically, our plans involve not being home much. We'll be hitting the road for the better part of the next year supporting our latest record. Perhaps we should have called it "Gone This Year"...