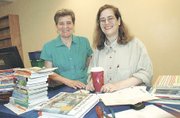 <i>Keeping Shop is a regular feature of the Gazette Packet. To qualify, retail shops should be locally owned or operated; new, expanding, celebrating a significant anniversary or doing something otherwise newsworthy. To nominate your business or another business, contact Mary Ann Weber, editor, Gazette Packet,<a href=mailto: maweber@connectionnewspapers.com>, maweber@connectionnewspapers.com</a>.</i>
<b>Owners</b>
Ellen Klein and Trish Brown
<b>Short bio:</b>
EK: Originally from Philadelphia, Pa., I've lived in Alexandria since 1983. I've been an archaeologist, lawyer, and freelance writer, with advanced degrees from the University of Pennsylvania, New York University and Princeton. Many people, however, know me simply as "Miss Ellen," a bookseller/storyteller who formerly worked at A Likely Story.
TB: I was born in Tennessee, but grew up in Bethesda, MD. I graduated from Antioch College and headed to California for several years, but ended up back in the Washington area, where I met my husband, Joe Van Eaton. Our daughter Ceanna was born in 1987, and I went to work at A Likely Story Children's Bookstore when she was five years old, working there until it closed. Ceanna is living in Minneapolis now, so Joe & I share our Arlington home with our lab/hound mix dog, Maggie, and three cats named Rascal, Cricket & Moggie Boo.
<b>Why did you choose this particular business?</b>
EK: I grew up in a family that loves books of all kinds. But it wasn't until 1984, when I wrote a newspaper article about Marilyn Dugan, who had just opened A Likely Story on West St., that I learned that children's books are a particularly important segment of the publishing industry. Seeing her surrounded by hundreds of brightly illustrated books, I thought to myself, "What a fun way to make a living!" When she retired, I thought about buying her store, but I didn't act on it. However, last year I had the opportunity to work at A Likely Story and discovered that a locally owned, independent children's bookstore really is something the community needs and desires. It's now my goal to fill the void left behind when that store closed.
TB: I've always been a book lover, and after my daughter was born, I wanted to foster that love in her as well. That wish has expanded to include all children (as well as adults). Among other things, I'm a mystery fan, and it's a thrill for me to be able to talk to someone and follow the clues to match that person with the perfect book.
<b>Why did you choose to work for yourself rather than as an employee for someone else?</b>
EK: I've been self-employed for 25 years, so I'm used to never getting paid vacations, having to work overtime, and trying to squeeze in time for my husband. But more to the point, I trust my judgment, based on nearly 50 years as a reader and 25 years as an Alexandrian, about what will make Hooray For Books! a successful community institution.
TB: I was in this business as an employee for 16 years. I came to work at A Likely Story thinking that I'd like to open my own bookstore someday, but quickly decided that it was far too much work for the mother of a kindergartner. When the original owner of A Likely Story retired, I considered taking over the business, but had family obligations that made it impossible for me to devote enough time to the business. So when this opportunity arose, I hesitated only because of the potential risk to retirement savings, but decided I'd rather regret having spent the money than regret not having taken the risk.
<b>What have you learned from being in business?</b>
EK: Everyone has a favorite children's book.
TB: It has greatly increased my self-confidence -- I'm doing things that I've never done before, usually with great success. I've learned to trust myself more, which has brought me tremendous satisfaction.
<b>Share an anecdote of a challenging or humorous experience or biggest surprise learned from working your business:</b>
EK: Each one of our 35 or so bookcases weighs a ton and has to be moved at least 10 times before it's in the right place - which probably is where it was originally.
TB: It's been a tremendous challenge to build book inventory from scratch. I've pored through scads of catalogues and internet sites, and now have book titles floating through my brain at all hours of the day and night!
<b>What have been the advantages and/or disadvantages of operating a business in Alexandria?</b>
EK: There are many well-educated families here who appreciate the importance of inspiring their children to read and enjoy books.
TB: Doing business in Alexandria has a small town feel to it that I never expected. The people we've worked with, from the bank to the CPA, have been wonderfully friendly and helpful, and have a genuine interest in our well-being and success. I expected it to be much more businesslike (which is not to say it isn't professional!), so it's been surprisingly pleasant going through the nuts and bolts of opening a business. The only disadvantage to operating in Alexandria is that I live in Arlington!
<b>Key staff:</b>
Our booksellers are: Haley Bargery, Megan Graves, and Patrick Hunter. All three have worked with us in the past, and we're excited to have them back with us. Megan and Patrick are going to host our Friday & Saturday story times. Megan is a NOVA student and talented actress, Patrick would rather be at a rodeo, but gives us some of his time on the
weekends in spite of having a full-time job, and Haley will be with us most of the summer except for when she goes on her second humantarian trip to Rwanda before heading off to college in the fall.
<b>Products and Services:</b>
EK: We sell books and related merchandise for children of all ages, but particularly from birth through high school. We also offer Friday and Saturday story times and are planning various other activities of interest to parents and grandparents.
<b>Professional affiliations: </b>
Members of American Booksellers Association and the Association of Booksellers for Children. We're planning to join the local business association as well as finances permit.