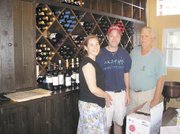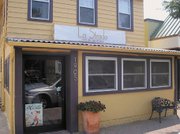 For those who love good Italian cooking there is no shortage of restaurants to satisfy the taste buds in either the City of Alexandria or in Mount Vernon and Lee districts. And, another has just opened in Del Ray.
La Strada, 1905 Mount Vernon Avenue, made its soft and quiet entrance on to the culinary stage last Wednesday evening, June 4, with a dinner offering beginning at 5 p.m. Right now that is the only meal being served during their shake down cruise on the public pallet.
A family owned and operated venture, it is located at the site of the former Tex-Mex restaurant Los Amigos. When fully operational it will be open from 11 a.m. to 10 p.m. Sunday through Thursday and 11 a.m. to 11 p.m. Friday and Saturday, according to owner Stephen Scott, Sr., who was stocking the wine bins on Friday afternoon.
"This is truly both a family and neighborhood operation," said Scott Sr. Stephen Scott, Jr., is the chef. Daughters Kristen and Courtney Scott serve as the head waitress and hostess respectively. And, their mother, Diana Balboni, gives the restaurant it true Italian heritage, being a first generation American from Italy.
Kristen, Courtney and Stephen, Jr., all live in the Del Ray neighborhood while the senior Scotts are residents of Old Town Alexandria. "We are all neighborhood people," Kristen said.
For Scott senior and Diana, this venture is truly a leap of faith. They also own and operate a computer business in Alexandria. "I work in the computer business from 8 a.m. to 5 p.m. and then come here and start all over again," Scott senior said.
For the two sisters and their brother the restaurant business is nothing new — each has a professional background in food service.
Scott, Jr., has worked for a variety of restaurants in the Metropolitan area. He left the restaurant Zola in the District of Columbia, near the MCI Center, to participate in this family venture.
Kristen and Courtney have backgrounds in the restaurant business. Both have served in restaurant managerial capacities over the years. Kristen is also a teacher. She just resigned her job from Fairfax County Public School teaching English As A Second Language to participate in the family venture.
Offering a wide array of Italian cuisine, La Strada's menu is unusual for its pricing. All menu items are offered at either a "Solo" or "Familigia" price — depending on whether the item is ordered for one or for a group of up to six people.
For example the homemade ravioli stuffed with veal and vegetables in a morel mushroom cream sauce is $19.95 for one or $29.95 for a group. The group price would also apply to a couple ordering the same meal, according to Kristen.
Although, the majority of menu offerings are seasonal there are some items that are particularly designed to satisfy summer appetites. An example would be the tuna with tomato chilies, rosemary, garlic, capers and anchovies at $18.95 solo or $28.45 familigia.
In addition to the comprehensive menu, La Strada patrons will also be able to enjoy a good selection of red, white and sparkling wines. Each, except the sparkling wines, can be order either by the bottle or glass ranging in price from $24 to $48 for the former and $5 to $11 for the latter. "We are hoping to eventually expand the wine list to over 100 selections," Courtney said.
La Strada also offers both Italian and American beers. The latter includes Moretti and Peroni beers from Italy as well as four Sam Adams, two Yingling and Miller Lite from this country.
Seating capacity is now 50 but the Scott's are hoping to expand that with an outside patio. "We have ample room outside. And, if our unannounced opening night is any indication we can use the extra seating capacity," said Scott, senior. They had a full house and customers waiting.
LA STRADA ISN'T the only Italian restaurant offering select dishes for summer. Some of the others, in both Alexandria and southeastern Fairfax County, include the following:
Landini Brothers, 115 King St., an specially flavorful gazpacho for $7.95
Il Porto, 121 King St., a chicken Caesar salad at $7.85 or Fisherman's salad with shrimp and salmon at $8.50
A La Lucia, 315 Madison St., a pasta with vegetables at $12.95
Villa d'Este, 600 Montgomery St., a seafood mixed grill composed of grouper, scallops, shrimp and calamari at $18.95 for lunch and $25.95 for dinner.
Tempo, 4231 Duke St., a chunky gazpacho at $3.95 plus fresh mountain trout with lime juice and honey for $16.95 at dinner.
Mike's Italian Restaurant, 8368 Richmond Highway, flounder stuffed with crab meat covered in butter, lemon and capers for $24.95 at dinner.
Paradisio Italian Restaurant, 6124 Franconia Road, egg plant with pasta at $10.50.
These are only a sampling of the restaurants in both Alexandria City as well as Mount Vernon and Lee districts specializing in Italian cuisine with special items on their menus to satisfy lighter summer appetites. Patrons are only limited by their personal preference.