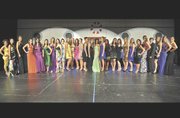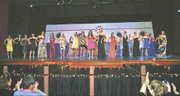 Langley High School's annual fashion show, held on Saturday, April 5, featured the latest styles and trends for the season. This year's theme was "Sail Into Style," a fashion cruise ship stopping at different places around the world — from Africa, through the Bahamas, to London. Each travel destination showcased a different trend, such as animal print for Africa and "rock royalty," including colored jeans and concert tees, for London.
A few elements set this show apart from the previous ones. All models had professionally done hair and make-up, provided by the Paul Mitchell School and Salon Daniel. The foyer to the auditorium was designed to look like a ship called the "S.S.Style;" every nautical decoration and minor detail was perfectly themed, from life preserver tickets to passport programs. Even the stage was a giant cruise ship, completely covered in pounds and pounds of glitter, and provided a back drop to each of the scenes.
While representatives from sponsors such as Nordstrom and Cache and Fairfax County School Board officials filled the VIP seats, a cameraman from Channel 21 recorded the entire show to be aired on Channel 21 throughout the month of April, and professional photographer Henry Villarama also recorded the evening.
The night concluded with the Advanced Fashion Marketing Class, those who put on the show, as the "last stop" of the night. Wearing dresses provided by Cache and male escorts in tuxes provided by MW Tux, the girls danced on stage and stole the show. Directors Lexi Gallucci and Lauren Beckwith also recognized their fashion teacher, Tricia Poythress, as without her the show would not have been possible.