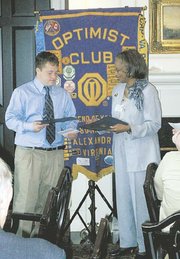 Ryan Bailey was born eighteen years ago with Down syndrome. Three months later he underwent open-heart surgery to fill a massive hole in his heart. And he continues to deal with health issues ranging from breathing and speech problems to severe food allergies.
But none of this has hindered Bailey's ability to help others.
Last Tuesday morning at the Belle Haven Country Club , Bailey was named the Sunrise Optimist Club's Annual Service Award winner for his volunteering efforts in the Del Ray community.
"I cried," Carol Bailey, Ryan's mother, said of her reaction to hearing the news. "He did have quite a rough start to life. Ryan is here because he wants to be here…he is a fighter. He has a strong desire to do and to live."
Courtney Bishop, the Alternative Community Service Manger for the Alexandria Volunteer Bureau, said Ryan stood out in a wide pool of applicants.
"Given his circumstances, he could have chosen to not be so involved in the community," Bishop said. "But Ryan did just the opposite. He has risen above a lot of adversity."
Ryan has spent much of his life volunteering at a variety of events in the area including Art on the Avenue, the Del Ray Halloween Parade, Holiday Tree Lighting and Cinema Del Ray. His parents have worked to help rebuild the Del Ray community and Ryan has been with them every step of the way.
"We wanted to try and make him a part of society rather than dependent on society," Terry Bailey, his father, said. "You just learn what your capabilities and capacities are and try and fulfill them. He gets a real enjoyment out of helping other people."
Gayle Reuter, a longtime neighbor and friend of the family who serves on the Del Ray Business Association's Board of Directors, said his disabilities have not held him back from his love of volunteering.
"Ryan has never been afraid to go in and meet new challenges and new situations," Reuter said. "I think what is important is that he is always the first person at all of these events and the last to leave. He does everything with a smile."
Reuter said that when they put up decorations on Mt. Vernon Avenue last winter, Ryan stayed out all night holding lights and ladders, despite the freezing temperatures.
"With so many teens, the first thing they do not think about is, 'gee, what can I do for the community?'" Reuter said. "And he takes much of his own personal time in doing for others. I think that is extremely unique for young men."
Ryan attends T.C. Williams High School and is part of the Life Skills Program for Students with Special Needs. The group works with local businesses such as the Hilton Hotel and Old Navy to see what skills the students can use upon graduation. Ryan is also a member of the newly instituted "Best Buddies" program, in which students from the regular school partner with Life Skills students to take them to different events.
Patty Moran, a longtime friend of the Baileys and administrative assistant to the Principal at T.C. Williams, said Ryan is known throughout school for his jovial and friendly personality.
"He has done really well in school and is kind of a leader in his class," Moran said. "When he goes to the lunchroom, everyone says hi to him. He gets along with all types of kids here."
When Ryan accepted the award last week, his speech consisted of only "I like to help and thank you very much."
But that was okay. His actions spoke much louder than words.