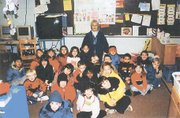 Linda Franklin-Carroll is retiring from Fairfax County Schools. But first, let's do the math: 33 years as a classroom teacher; five years as elementary school guidance counselor; 34 years of her career has been in Fairfax County Public Schools with the other four career years in California and in Department of Defense Schools in Germany.
Count the lives, Franklin-Carroll has touched and the number approaches 3,625. Each year, Franklin-Carroll would have told you the most important students are the ones she currently has in her classroom. This year, that would be her 39 kindergarten students at Laurel Ridge Elementary School in Fairfax.
Oh wait … we haven't counted the parents of the students or the administration, faculties and resource personnel with whom Franklin-Carroll has developed personal and professional relationships throughout the years.
With her 34 years of teaching and working as a counselor in Fairfax County, Franklin-Carroll has touched many lives. A parent of one of her kindergarten students wrote, "If anything would convince me that it would be a good idea to relive my childhood and be 6 again, it would be the possibility of being assigned to your classroom."
Dedication and stamina aside, Franklin-Carroll has worked at Laurel Ridge School for 34 years, the last 14 years as a kindergarten teacher. Someone wrote of her work with young children: "A maestro is a master of art, usually a composer, teacher or conductor. Linda Franklin-Carroll is a maestro in her kindergarten classroom. The work noise of children creates a majestic score and is a daily production as Linda works with others toward a collaborative goal … the teaching of children, thus enabling them to learn."
Another parent noted Franklin-Carroll's "recipe for success" as a teacher: "Mrs. Carroll's recipe for success has as its ingredients 33 years of elementary school teaching experience, five years of school counseling, two advanced degrees in early childhood and counseling, a natural gift for making learning fun, an ability to manage classroom activities with positive feedback, daily inclusion of volunteer parents in the classroom and a clear message of unconditional love for her students."
With numbers, dedication, experience, skill and years duly noted, let's celebrate! Join Franklin-Carroll in celebrating her retirement from Fairfax County Public Schools. Present and former students and their parents are invited for a picnic on Saturday, May 17, from 12-2 p.m., in the Clifton Town Park in Clifton — follow the signs. Principals, teaching colleagues, former students 21 and over, and friends are invited to join Linda Franklin-Carroll on Saturday, May 17, 2-7 p.m. to celebrate her retirement at the conclusion of the school year. Host for the party are Tom and Jean Peterson and Phil Krum. The celebration gathering will be the home of Tom and Jean Peterson, 7150 Main St., Clifton. Tom Peterson, a former colleague of Franklin-Carroll's, is the mayor of Clifton. At the celebration, Franklin-Carroll's sons, Kirk and Kent, and their spouses, and her daughter, Kellee will join in this celebration. Visit www.lindafranklin.com for more information.
<b>Sharon Compton</b>