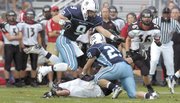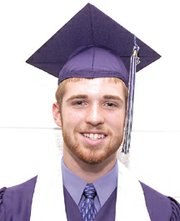 Kevin Elliott has seen both the good times and the bad times as a high school athlete over the past four years.
Elliott, a three-sport athlete who spent his first three years of high school at Herndon High before transferring to Stone Bridge High for his senior year, has dealt with injury setbacks and losing seasons. He has also experienced the ultimate success in high school sports as a member of Stone Bridge's state AAA championship football team.
He elected to come to Stone Bridge for his 12th grade year partly because he wished to be a part of head coach Mickey Thompson's highly successful Bulldogs' football program. Kevin's dad had been a member of Thompson's coaching staff when he was at the helm of the Park View High football team several years earlier. And more recently, his father had also been a part of Thompson's Stone Bridge staff as well.
So Kevin, through his dad, had some background with coach Thompson and understood the high caliber of program he would be a part of in becoming a Bulldog.
And what a ride it turned out to be for Elliott, who was part of a Stone Bridge football team last fall that won Liberty District, Northern Region and state titles. Elliott started at a cornerback position for the state champs.
"The team was great and it was a great experience going 14-1 and winning a state championship," said Elliott, a Second Team All-District selection.
Kevin said the Bulldogs were not faint of heart.
"We always came out [for games] thinking we would [win decisively] over everybody," he said. "We had the mentality we'd beat every team every Friday night. But we definitely still respected the opposition."
Coach Thompson would have it no other way. He always has encouraged his players to respect the opposing team, no matter what the talent level across the ball might be.
Elliott said the football fever surrounding the Bulldogs' as they went into the postseason was at an incredible level.
"We had so many people coming to our games," said Elliott, of a Stone Bridge team that defeated Edison for the Div. 5 region crown and Potomac High for the state title. "The atmosphere was fantastic."
Elliott loved the team camaraderie he had with his Bulldog teammates. He had known coach Thompson's sons — starting Bulldog quarterback Patrick, a senior, and defensive end Zach, a junior— while growing up. So knowing those two helped him to feel more at ease when he first joined the team.
"They kind of showed me the ropes," he said. "Getting to know [my teammates] was great. And winning the state championship was awesome."
<b>THROUGHOUT</b> his high school athletic career, Elliott played three sports — football, basketball and lacrosse. The first time he ever played football was his freshmen year at Herndon. By his sophomore year, Elliott was the Hornets' starting JV quarterback and a starting linebacker as well. The following year, as a junior, Elliott played varsity where he was utilized as a special team's player.
As a basketball player at Herndon, Elliott was part of a program under longtime, successful head coach Gary Hall, one of the top hoops coaches in Northern Region history. Elliott played a shooting guard position for the Hornets as a junior.
"Playing for coach Hall was awesome," said Elliott. "He's a great coach. He always stressed working hard. Practices were always very intense. We were always ready to play."
And as a Herndon lacrosse player in the spring, Elliott saw his first varsity playing time late in his sophomore season before spending his junior year playing for the Herndon varsity as a midfielder.
When he transferred to Stone Bridge, Elliott continued to be a three-sport guy. Following the marvelous football season last fall, he played shooting guard for coach Sonny Green's Bulldogs' basketball team. Stone Bridge did not win a lot in hoops last winter, but Stone Bridge always played hard.
"We were in a lot of the games," said Elliott. "It didn't go the way we hoped it would, but we were close [to being good]."
Late in the basketball season, Elliott suffered a stress fracture foot injury.
By the spring lacrosse season, he was still mending from the injury and had to sit out the first few games. He enjoyed his season playing lacrosse under Stone Bridge coach Scott Mitchell.
"At practice, we brought it every day," said Elliott, of the team's sound approach to the game. "We were mostly a young team. Lacrosse is a sport that's building [at Stone Bridge]. It will start being real big. [In lax] there's the hand-eye coordination [aspect] and a lot of contact like in football."
Mitchell said Elliott made quite an impression in his one and only season with Stone Bridge lacrosse.
"The impact he had was pretty astonishing," said Mitchell. "He's just a good kid and a good athlete. He missed the first couple of weeks [due to the injury] but came to all the practices."
Mitchell utilized Elliott positionally wherever he was needed most to help the team.
"He played offense and defense and never complained," said Mitchell. "Whenever we had something we needed to fill, he'd do that for us as an offensive midfielder or defensive midfielder. He had a great attitude, and he's tough. Sometimes we needed a physical presence and he'd bring that. He wasn't afraid to take the ball to the goal."
<b>ELIOTT</b> earned several honors throughout his high school athletic career. He garnered team sportsmanship awards three times (Herndon High freshman hoops, Herndon JV lacrosse and Stone Bridge hoops).
He also won a Mark McGinley Scholarship Award a few weeks ago, given to 10 area athletes who excelled in athletics and academics and who are headed to four-year colleges on partial athletic scholarships. The award is named after McGinley, a former Madison High athlete who died in New York City during the September 11 attacks in 2001. McGinley, as a student-athlete at Madison, epitomized the hard-working student-athlete who got the most out of his abilities.
Elliott was nominated for the award by coach Mitchell, among others.
"He best exemplifies what it means to be a student-athlete," said Mitchell.
Elliott, who graduated with his senior class on June 18, will be attending Concorde University in West Virginia this fall. There, he will be a member of the Div. 2 football program. Elliott is expecting to play free safety position.