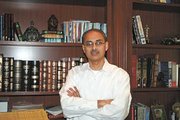 This year Dr. Arvin Chawla published his second medical mystery thriller, entitled "Deadly Recall." In 2004 he published his first novel, "Terminal Care." A practicing physician, Chawla uses writing, "as an outlet to wind down after a day's work. Its very relaxing and rejuvenating for me."
Chawla uses his personal experience and then lets his imagination run wild, to come up with the stories. "I wanted to write and be a journalist, it's always been a hobby of mine," said Chawla. He began writing in his late 20s; he was the editor of his school's medical journal. "This is not a commercial venture for me, its more of a hobby, one that's gotten out of hand," said Chawla.
For aspiring writers, "you just have to write from your heart. People who write for commercial success — that doesn't always work. The writing may look simple, but when you read it it's very good," said Chawla.
Chawla, who reads a lot of Sherlock Holmes, Agatha Christie and other old mystery writers, thinks people enjoy mysteries, because "I think people enjoy the element of the unknown, when you read mysteries, you want to know if the character you think is good or bad. People are naturally inquisitive."
Chawla was 26 when he emigrated from India. He is currently writing a third novel based on his and some of his friends from India's experiences coming here. The third novel is about "a guy who comes here and makes it good and how he ties the two worlds together. It's based on my friends and my experiences and how you strive to be successful here," said Chawla.
In India Chawla had been trained as a physician. After coming here he attended the University of Maryland, interning at Prince George's Hospital. Chawla is an internist, who has practices in Herndon and Sterling and is affiliated with Loudoun and Reston hospitals.
Chawla resides in Ashburn with his wife who is also a physician, his daughter who will be a sophomore at the University of Virginia next year and his son who attends Stonehill Middle School.
In Herndon, Chawla enjoys "the Supper Club of India; if you want Indian food, that's the place to go."