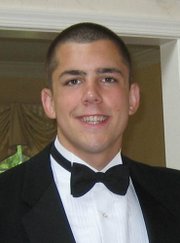 Midway through the J. Robinson Intensive Wrestling camp at the University of Minnesota last summer, W.T. Woodson graduate Mike Muldoon, made a pact with teammate Kevin Webb.
"It was 28 days of pure hell. The food that they fed us was terrible. What they made us do was terrible. We hated it there," said Muldoon. "We decided that if we were going to waste our summer there, nobody was going to beat us when we came home."
That decision became a turning point for Muldoon. An admittedly overweight rising senior who began wrestling during his junior year, Muldoon asked his coaches the best way to improve his skill over the summer. They recommended the J. Robinson camp.
Muldoon mowed lawns during the spring to save up enough money to travel to Minnesota for the four-week camp.
"We figured if he was committed enough to figure out how to pay for it, we would be supportive," said Mike Muldoon Sr., Mike's father.
By the start of his senior year, Muldoon slimmed down from 235 pounds to 185 and organized offseason morning workouts for the Cavaliers.
"He really took the challenge to heart. He did everything that he could do to build upon his skill," said W.T. Woodson wrestling coach Jack Clark.
"It was very impressive," said Mike Muldoon Sr. "He has always been a pretty determined guy. The most important thing was that as he sort of followed through and tried his best, he saw some real, genuine results over time."
<b>IN ONLY HIS SECOND</b> year wrestling, Muldoon won nearly 30 matches and placed second at the Liberty District wrestling tournament.
"Losing wasn't really an option," said Muldoon. "I get really competitive and I hate to lose."
Clark said Muldoon may not have had the experience of his opponents, but his resolve to win was unmatched.
"It wasn't just work ethic, it was about buying into a vision and then doing everything possible to get there. One year of experience and then being able to finish second in the district is a pretty tremendous achievement," he said.
Muldoon was not satisfied with only seeing improvement in himself.
"I was kind of ticked off that [Langley] kept beating us each year, so I decided that I didn't want to lose this year. I knew that it didn't just matter if I won or a couple of the guys won. I knew that the entire team had to win. I tried to get as many of the guys involved as possible."
Work began immediately after returning from J. Robinson, with Muldoon getting guys to start training on the Woodson track during the summer. He got as many guys to get up for 6 a.m. practices during the fall.
He leads by example and doesn't let the odds or the work required to achieve it stop him," said Clark.
The Cavaliers sent eight wrestlers to the Liberty District finals and send nine to the Northern Region meet.
"That's pretty amazing, considering there are only 14 weight classes," said Clark.
Muldoon will attend Virginia Tech this fall and is thinking about walking on to the wrestling team.
If Muldoon does decided to continue his wrestling career, one thing is for sure, he'll be up for the challenge.
"He turned himself into a self-motivated young adult, preparing himself for the real world and took all the rest of us with him," said Clark.