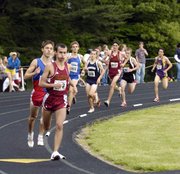 Oakton head coach Phil Tiller could look into Joe LoRusso's eyes and already know the outcome of a race. It was the determination in Tiller's star distance runner's eyes that allowed him to finish with eight district championships, five Northern Region titles and two AAA Virginia state titles over his three-year varsity career.
"He didn't want to be an average kid," said Tiller. "I could look at him before races and just know that he was going to win. You just know it."
Never was that determination more evident than at this years AAA Virginia state outdoor track and field meet, in which LoRusso, battling the effects of mononucleosis, won the boys 1,600-meter run to close out his stellar career.
"He has just an unbelievable drive to be successful. I don't think it's common at all," said Tiller, who has coached at Oakton for seven years. "It's not like I haven't seen enough kids to know that this isn't something that you see every day."
LoRusso placed second in the mile run at the Concorde District meet this spring and again fell short in the Northern Region meet.
"That was hard for him to swallow," said Tiller.
LoRusso, however, wasn't going to let his physical health stop him from winning what became his last race as a high school runner.
"Mentally, it was taking a toll on me," said LoRusso of the mononucleosis. "It was tough for me to say that I can win the race when I'm feeling terrible."
LoRusso pushed through, finishing with a personal best time of 4 minutes, 13.38 seconds.
"He really is one of the toughest runners that I have ever met and ever coached," said Tiller.
<b>WHILE LORUSSO'S RUNNING</b> career began as a way to stay in shape for soccer, it took only one season of cross country during his freshman year for LoRusso to realize that distance running was the way to go.
"To me, it wasn't about the actual running, but the connection that he made with the team. The coach and the team, they were all his life. It was a way of life," said Sharon LoRusso, Joe's mother. "It was such a nice environment for a young kid starting out high school. I knew that he wouldn't want to leave that group of kids."
It was during that freshman year, when Joe LoRusso ran on the junior varsity team, that Tiller first saw runner's determination.
Joe LoRusso set out to break the Oakton High School record for a freshman mile.
"Even then, I could see that he was trying to make his mark," said Tiller. "He didn't want to be an average kid."
While Joe LoRusso finished just shy of breaking the record, he has succeeded in leaving an indelible mark in Northern Region distance running.
In three seasons of cross country as well as indoor and outdoor track and field, Joe LoRusso recorded 19 all-district finishes, 13 all-region finishes and eight all-state finishes — a total of 40 medals. The previous high-water mark during Tiller's career at Oakton was 20.
As for a favorite race, Joe LoRusso, who will run for Villanova this fall, has a hard time naming just one.
"Each one is pretty special to me," he said.
More like this story