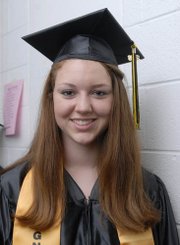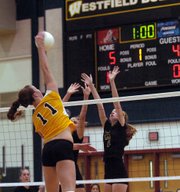 To say that Kelsey Maloney had a satisfying senior season for the Westfield volleyball team would be an understatement. The first-team all-region selection recorded 294 kills, 115 digs and 19 aces on a Bulldogs squad that finished 15-6. More importantly, however, was the simple fact that Maloney was able to play.
In October of her junior year, Maloney came down with pneumonia. Her health continued to decline and she began getting severe headaches, joint pains and began to experience numbness and memory loss. She was admitted to two different hospitals but was unable to be diagnosed.
"She wasn't getting better and we were trying to find out what was wrong. It was very frustrating for her trying to pinpoint because she wanted to work so hard but she wasn't getting better," said Westfield head volleyball coach Jim Bour. "You're crushed for her because she is such a wonderful young lady."
Finally, by December, after two months, Maloney was diagnosed with Lyme disease. After being out of school since the beginning of October, she learned that she would miss the remainder of the school year. One of the first things that she thought about was the Westfield volleyball team.
"When it happened I just knew it was something I had to get through. I just did everything I could to get better and it helped that I had volleyball. It gave me a goal to work towards and I know I wanted to play again," said Maloney.
<b>VOLLEYBALL WAS</b> a relatively new love for Maloney at the time of her diagnosis. One of her childhood friends was heavily into volleyball but the Westfield grad never had any interest in playing. That changed in eighth grade when Maloney decided to give the sport a try. She instantly fell in love with it.
With only five months of playing under her belt, Maloney made the junior varsity team in her freshman year. By her sophomore year, she was making a difference on the varsity squad.
"She is the type of kid, that when you teach her how to do something she can do it," said Valerie. "She is just really a natural and has great instincts and quick reflexes. She is very quick and very agile. She learned quick, it was really amazing."
<b>MALONEY WAS FORCED</b> to experience her junior year from her home, keeping up with the curriculum through homebound teachers. Her friends and teammates, however, made sure to visit her as much as possible.
"Everyone sent me cards and came to visit me all the time," Maloney said. The Bulldogs kept Maloney's presence at every game, dressing a volleyball in Maloney's jersey and making sure that their "Kelsey Ball" always had a seat on the bench.
"I think it was probably about halfway that we knew she wasn't going to be coming back," said Bour. "We were almost in like mourning and shock for a week as we, you know, we lost somebody that the girls cared so much about and was a vital part of the team. To see her stricken with that was a lot to take mentally for these young girls."
<b>MALONEY NEVER</b> stopped working towards her goal of getting back on the volleyball court.
"She has been amazing, she has never once said 'Why me,'" said Valerie. " She's not that type of kid."
By the summer leading up to her senior season, Maloney was playing volleyball again, and even though she wasn't entirely at 100 percent, she was just happy to be back on the court.
"It was really nice to play with my team again," said Maloney, who has committed to play volleyball at the University of Wisconsin. "It was fun playing volleyball and hanging out with my friends again."