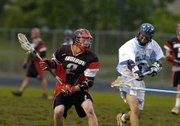 A.J. Cybulski played football and lacrosse during his four years at Madison. While many of his teammates on the football field also picked up a lacrosse stick during the spring, Cybulski's transition was a little more extreme. A 175-pound offensive lineman during the fall, Cybulski became a speedy attackman during the spring season.
"It is really not natural to go from [offensive guard in football] to attack in lacrosse," said Alan Cybulski, A.J.'s father.
While offensive guards in football are known for their size and strength, attackmen in lacrosse are known for their quickness and agility.
A.J. Cybulski, however, didn't really see a problem.
"I wasn't fast enough to play running back or big enough to play fullback," he said. "That's where I was put."
A.J. Cybulski shined in both sports, helping pave the way for the Warhawks' offense during the football season while become one of the Warhawks' all-time most prolific goal scorers during the lacrosse season.
"[He had] a quiet confidence. No flash, no trash talk. He just went out and did his job, 100 percent," said Nate Dewey, Madison boys lacrosse head coach. "His play was very much a lightening rod for the rest of the team."
A.J. Cybulski finished with over 200 points during his career at Madison, a mark that placed him in the top three in the history of the Warhawks' program.
<b>DESPITE HIS SUCCESS</b> on the field, A.J. Cybulski believes that it's the bonds that he formed with his teammates that he will remember as he moves on to the Naval Academy Prep School in the fall.
"I made some great friends in both sports," he said. "You meet a lot of people. It was nice to experience it with them for four years."
He was also able to share the lacrosse field this year with his younger brother, sophomore William.
"It was really nice because we are two years apart and that doesn't usually happen with that age difference," said A.J. Cybulski. "To be able to come home and watch game films with him, to be able to experience the whole season with him. It was awesome. It was nice that we could experience that together."