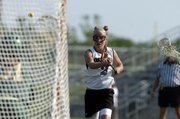 As the youngest of six children, Oakton's Ashley Kimener found it tough to stand out during her childhood.
"We truly didn't know that there were any hidden talent, " said Kimener's mother, Carol. "We didn't know anything was special about her."
With siblings ranging from 10 to 3 years older, Kimener always played well above her age.
But when Kimener entered high school and started playing lacrosse with girls her own age, that talent became all-too apparent. The numbers speak for themselves – 143 goals and 61 assists during her career at Oakton, including 51 goals this year. This spring, Kimener led the Cougars to their third-consecutive Virginia state title to finish out her stellar high school career.
How's that for standing out?
<b>COMING FROM A</b> very athletic family, Kimener, according to her mother, "had a stick in her hand before she could walk." A celebrated high school field hockey player as well, Kimener and her siblings played as many sports as possible – often forcing her parents to run back and forth between games.
Carol Kimener remembers setting up a "friendly family rivalry" during youth games.
"Your brother just scored this many, or your sister just scored this many," she would tell Ashley. "Now beat it."
When Ashley Kimener entered Oakton, she immediately became a starter for the Cougars.
"She has been a starter and a major player on our field for four years," said Oakton head coach Jean Counts.
The Cougars won their first official state title during Ashley Kimener's sophomore year and followed it up with another title in 2007. She was also named the Concorde District and Northern Region player of the year in 2007.
Many believed that 2007 was the peak of the Cougars' success with 10 seniors graduating. When the Cougars started the 2008 season with a 4-4 record and then lost in the district tournament to Chantilly, the Cougars' doubters became louder. All that only strengthened Ashley Kimener's resolve.
"Once it got into playoffs, I took it upon myself and realized that I needed to step it up," she said.
Ashley Kimener lobbied for longer practices during the Cougars' final few weeks, setting the example for work ethic.
"She is the reason that we had three hour practices every day. When I would ask for one more, she would want five more," said Counts.
With Ashley Kimener at the forefront, the Cougars tore through the Northern Region and a Virginia state playoffs. The Cougars' star scored nine goals in the Northern Region finals against Chantilly and then followed it up with a seven-goal performance in the state finals, cementing her place in Oakton athletics history.
James Madison University-bound, Ashley Kimener isn't done with her lacrosse career. When she thinks back to her time playing lacrosse at Oakton, "winning the state title three times in a row will probably pop up," she said with a laugh. "Maybe."