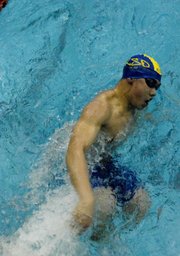 It was the biggest swim meet of his life, and Derek Bui was sick. Already pitted against the reigning state record holder in the 100-yard breaststroke, his best event, Bui stepped into the state meet battling a flu that had already caused him to miss the last week of training. The last thing he wanted was to fall short in his final race, after having won state titles each of his first three years at Robinson, with the school's five consecutive state championships on the line.
To say that Bui responded well to the challenges would be an understatement.
He lit the pool up, racing to a time of 57.34 seconds, a mark that tied the state record and automatically qualified him for All-America honors. More importantly, his performance helped Robinson earn a sixth consecutive state title in men's swim and dive.
"That's just the kind of person he is," said Rich Gordon, Bui's coach at Robinson. "He just digs down and does what he needs to do in the most efficient way."
Others were a bit more apprehensive about how Bui would handle such adversity.
"We really worried whether he could do it or not," said Steve Bui, Derek's father. "But at the end, he pulled it off."
Derek Bui is a four-time state champion, said Steve Bui, because he possesses a strong will that simply cannot be taught: "The way that he achieves what he tries to do, what he wants to do, it's not from his parents."
But Derek Bui is just as quick to credit others with the success he has found in swimming.
"It was a lot easier to swim fast with the help of my teammates cheering me on," he said of the state meet. "Knowing that I can't let them down, and I want to do my part to win the six-time states for Robinson."
The legacy Derek Bui leaves at Robinson is staggering. His senior class won district, regional, and state titles every year, continuing the streak that started when he was in seventh grade. He also holds two state records: the 100-yard breaststroke, which he originally broke during his sophomore year, and the 100-meter breaststroke, which he set last year with a 1:04.03 time.
"Where are we going to find the next Derek Bui?" wondered Gordon, when asked about his star swimmer's impact on the program. "There's nobody else like him."
Derek Bui is just as proud, though, of his accomplishments away from the pool. He coaches swimmers of all ages at the International Country Club in Fairfax, something he describes as "giving back to the sport" that has taught him so much. He also took six classes in the difficult International Baccalaureate program this year and was a member of the National Honor Society.
"The one thing I'm very proud of about him is that he does pretty well in school, along with swimming," said Steve Bui.
Derek Bui will take his impressive combination of academic strength, leadership ability, and athletic excellence to William & Mary next year.