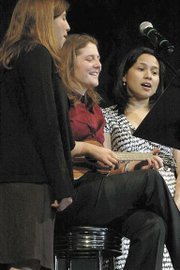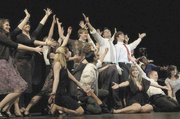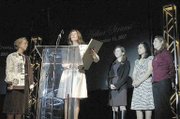 <b>AS THE LIGHTS CAME UP</b> this past Sunday in Hayfield Secondary School's auditorium, a tear-stained audience applauded what they now knew of a life made very, very full. They had just experienced a two-hour long memorial service for William "Bill" Arthur Strauss who died at the age of 60 on Dec. 18 of pancreatic cancer, but not before founding the comedy troupe the Capitol Steps, founding the soon-to-be international theater program the Cappies, founding a program that aids minorities in getting into colleges called FOCUS (Fellowship of Concerned University Students), co-authoring three musicals and nearly a dozen books, raising children, traveling the world, obtaining two degrees from Harvard and being a Senate staff member.
The title of the memorial. "A Life Made Full," came from a line at the end of Strauss' book of poetry.
Strauss, known for founding the Cappies in which high school theater students from around the area review each other's plays and hold an awards ceremony each year, was first remembered during the ceremony by Judy Bowns, who co-founded the Cappies with him, and Chip Rome, Robinson Secondary School theatre director and teacher. The two were master or ceremonies for the event and discussed his history and life throughout the program, describing how Strauss had first become involved in politics in high school or how the Capitol Steps had started as a skit at a holiday party.
"The less traveled path was the one he always chose," Bowns said as the night started, later adding that, "Today is a celebration of Bill's grand ride."
<b>THE EVENING'S CELEBRATION</b> included not only speakers discussing the life of Strauss but a multitude of musical and theatrical numbers performed by Cappies' students and alumni. After Bowns' and Rome's opening remarks the night kicked off with a rousing tap rendition of "I'm Singing in the Rain," which is how Strauss described his life during his nine-year struggle with pancreatic cancer in which he never slowed down.
Then Dick Zeckhauser, Strauss' undergraduate thesis advisor, discussed Strauss' undergraduate and graduate years at Harvard: how Strauss founded FOCUS his sophomore year and wrote a thesis on how entrepreneurs could help society, an idea that wouldn't come into vogue until 20 years later.
"Bill was always a man 20 years ahead of his time," Zeckhauser concluded. "That is the truly great tragedy of today."
The night unfolded with more performances from Cappies students including "L'Chaim/To Life" from "Fiddler on the Roof," one of Strauss' favorite musicals, and "You're Asking Me," a song from "Senioritis," the musical that the students in the national Cappies program wrote and performed under Strauss' supervision. It also included a video compilation of Strauss with the Capitol Steps, a trailer for the film version of "Senioritis" and a presentation by Del. Margaret "Margi" Vanderhye (D-34) of the Virginia government's declaration on the important influence Strauss had on the community.
Neil Howe, Strauss' long time partner in LifeCourse Associates and co-author of eight of Strauss' books, spoke of Strauss' unrelenting determination to make sure everything had a good ending.
"There is a right way to close everything," he said, speaking of Strauss' life. "A good book, a good poem, a good song, a good life."
Throughout the "show," as Bowns said Strauss would have wanted it called, laughter was heard throughout the auditorium whether from finding out that Strauss had created a dance while in Texas called the Mosquito or from a Lirty Dies, one of Strauss' characters from the Capitol Steps who continually swapped the beginning of words around, homage in which it was hoped that he "mircieves just how much he is passed."
<b>STRAUSS</b> was honored by his three daughters, Melanie Yee, Victoria Hays and Becky Strauss, who not only helped organize the event but performed "Somewhere Over the Rainbow/What a Wonderful World," a song they often sang with their father during his final days. Each also spoke to their individual relationship with their father.
"My Dad and I always had a special connection because he was the one who found me in Peru," said Hays talking about her father's trip to Peru in which he sneaked into a hospital disguised as a doctor in order to adopt her. "I always felt very connected to him," she had said in the hallway of the school before the show began, "because he truly found me."
His youngest daughter, Becky Strauss, spoke about his life in terms of fatherhood saying, "We just knew him as Dad, and he did so many other things and accomplished so much, but he was always Dad to us," she said before the show, later commenting during her speech in which she described the trips her father and she took around the world that "he was the best father anyone could wish for. He was always, always so much fun."
Strauss' eldest daughter, Yee, read a letter from his mother who could not make it to the memorial from California, where Strauss grew up. The letter prompted the crowd to go forward making changes in the world as Strauss would have wanted.
At the end of the show, after a slide show of images of Strauss, his wife, Jane Strauss, walked onto stage.
"What a life made great for all of us," she said. "Thanks Bill, until we meet again."
<b>AS FOR THE CAPPIES,</b> the show must go on. After the show, Bowns and theater teachers from around the area discussed where the Cappies would go without their founder.
"The Cappies make high school theater legitimate, respected and make the students far more reflective on what they're doing," said Jessica Speck, theater director at Churchill High School in Potomac and a member of the Cappies directional board. "You really need 10 people to do what Bill did in a week."
Bowns say they are up to the challenge, bringing in a few more people to help organize everything and moving forward as the program — which at the moment is running in 17 cities now — grows larger and becomes global.
"The philosophy is that it takes a lot of people to make a Bill. His wife has stepped up and come on board and wants to carry on Bill's work," said Bowns during the reception, "We have the gala coming up, the voting coming up, we have all the spring shows coming up. We're going to make this work and continue to work and we're going to do it with joy and gusto."