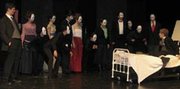 George C Marshall High School will present the classic musical comedy "City of Angels," the Tony Award-winning play by Cy Coleman.
Set in Hollywood in the late 1940s, "City of Angels" is a film noir style detective story that presents its own writer, Stine, who is having trouble transposing his book onto the big screen. In parallel, it follows the protagonist of the film, Detective Stone, on his adventures ... as Stine writes. Many of the characters have a counterpart in the other world.
Marshall High School has captured the Virginia High School League (VHSL) group AAA state theater title five times. Marshall thespians are recognized as outstanding actors and their exceptional performances this year included student written and directed "Everything in Essence" and "You Can't Take It with You." Come watch this group of talented actors while they perform City of Angels, in the spacious G.C. Marshall Theater this May.
— Keith Conway
G.C. Marshall Theatre Boosters