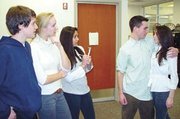 On April 17 and 18, Flint Hill School's Dessert Theater will present, "Welcome to the Monkey House," written by Kurt Vonnegut Jr. and dramatized by Christopher Sergel.
One of the most celebrated American writers of the second half of the 20th century, Vonnegut is known for his satire, humor and imagination. He often places his stories in a future world of science fiction, using his writing style to comment on modern trends and to warn of the possibilities of a dark future. The Time's literary critic describes Vonnegut as "... a zany but moral mad scientist at the controls of a literary time machine. He is George Orwell, Dr. Caligari and Flash Gordon compounded into one writer. Though Vonnegut is knocking a misplaced sense of values by showing the horrifying results, he's doing it with an irreverent chuckle."
Sergel's dramatization of the four short stories is tied together through a story line of one of the pieces in which an amateur theatre club presents a season of plays. The plays include, "The Handicapper General," in which an ethos such as egalitarianism is corrupted by oppressive authority. In "Who Am I This Time?" a young man has no identity until given a role in a play. "The Euphio Question" focuses on the consequences of a euphoria-producing machine. And finally, in "The Kid Nobody Could Handle," a music teacher reaches out and inspires a young student whose life is headed for destruction. These thought-provoking stories are brought to life in a minimalist style, using lighting, sound effects, and projections to support the pieces.
Most of the cast from Flint Hill's fall production of "Somewhere in Between" are back and eager to meet the challenges of this coming play. The cast members are: Erik Fredericksen, Tori Roisman, Collin Sibley, Alex Kersten, Maggie Robertson, Ariana Moledina, Paula de Carvalho-Nichols, Brendan O'Flaherty, Hena Naghmi, Michael Libonati, Natalie Berk, Kyle Cassaday, Alexis Abbey, Roxy Carbonell, Ricky Chan, and Abby Miller. The stage managers are Alicia Evans and Nicole Tawney. The director is Carlo Grossman.