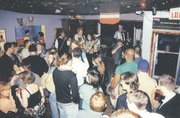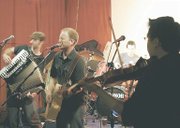 <strong>TRADITIONAL CELTIC</strong> music and punk rock? For the D.C. band O'Tasty, they go together like a Guinness and a smashed guitar.
<p>"Some of the beats seem to flow the same way," O'Tasty lead singer and guitarist James O'Brien said. "Irish [music] and punk seem to have the same half-time beat."
<p>This St. Patrick's Day, the sextet will be bringing that beat to Arlington for a gig at IOTA Club & Café. Far from a novelty act, the band is a part of a rich tradition of bands – The Pogues, Dropkick Murphys, Flogging Molly to name a few – that make loud, aggressive rock music with traditional Irish elements woven in.
<p>John Garder, who plays trumpet, mandolin and a medieval Irish drum known as a bodhran, said that the Celtic punk genre has "been around a while and we're really informed by that. We have the rock rhythm section but we have the Irish instrumentation on top of that."
<p>Cultural fusion aside, O'Tasty's main objective is fun – pure and simple. The band's logo is a four-squared coat of arms that features a clover, a switchblade, a mug of beer and a hot dog.
<p>"That's the cool thing about the Celtic punk tradition," Garder said. "It's brought folks from all walks of life who can enjoy music of the Irish tradition in a different way."
<p><strong>O'TASTY</strong> was formed by O'Brien and several of his musician friends as a lark for a 2002 St. Patrick's Day performance. According to O'Brien, who also is the owner of Redrocks Pizzeria in D.C., "We had a great time and got a great response so we decided to put a little more effort into it… We've been going ever since."
<p>Now the band is focused on writing its own material. Garder said that they're expecting to release an album sometime this summer and will be debuting new material at their IOTA gig next week.
<p>"We've gotten back to the grind of getting everything together and finishing up recording," O'Brien said. "Now we're going to go full into it."
O'Tasty is the kind of band that doesn't do anything halfway. O'Brien said their shows are full of energy and, as their previous St. Patrick's Day experiences attests to, they can occasionally get out of control.
<p>"Last year we had to get shut down… because the floor was starting to cave in because people were jumping up and down so much," he said, noting that IOTA's stage is on the first floor so that problem shouldn't arise this year.
<p>"They might rock out a little," said IOTA's booking agent, who goes by Burns – "just Burns."
<p>Grader seconds that. "People should wear good footwear for dancing and expect a really energetic St. Patrick's Day celebration," he said. "We're excited to bring to Arlington an energetic performance to celebrate the Irish holiday."