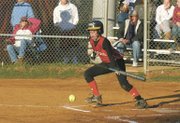 The McLean High girls' softball team is coming off a successful 2007 season in which the Highlanders finished 13-7 overall and qualified for the Northern Region tournament.
McLean, in the '07 season, went 8-6 within the Liberty District under then-first year head coach Maurice Tawil. In the district playoffs, the Highlanders reached the semifinals before losing to Stone Bridge. Then, at the 16-team region tourney, they saw their season end with a first round loss to Loudoun Valley.
McLean experienced a successful season last year, even though the team was young.
"We were especially young last year with six freshmen, who all played," said Tawil, who is now beginning his second year at the helm of the program. "We have a year more of experience and seven seniors on the team."
McLean's starting pitcher this season will be senior Kristin Raber, who also was the Highlanders' starter on the hill last year.
"She throws pretty hard and has a number of different pitches," said Tawil, of Raber's game. "She kept us in all of our games last year, whether we won or loss."
Raber's battery-mate behind the plate will be senior catcher Laura Mouglio, a fourth year starter who earned All-Liberty District honors last year. Mouglio allowed just one passed ball during the entire 2007 season and threw out numerous base runners. At the plate, she hit a healthy .400.
ANOTHER KEY returning player back in the McLean lineup will be sophomore shortstop Lauren McColgan, who was the team's leadoff hitter as a freshman and earned Second Team All-District accolades.
"She does it all," said Tawil. "She's a tremendous defensive player with great range, exceptional quickness and a terrific glove. She'll dive and get to all balls. [At the plate], she's a slap hitter."
Taking charge in the McLean outfield will be senior center fielder Danielle Tawil, a left handed hitter and a team captain.
"She can go get it and she'll dive for the ball," said coach Tawil, of his daughter.
Tawil likes the look of his squad across the board.
"I think we're solid, one through nine," he said. "Our bench is deeper [this season] and we have an exceptional defensive team."